By early 1915, solicitors would have become accustomed to the pages of their monthly Gazette opening with the Roll of Honour - a list of solicitors and articled clerks killed on active service. The fixture was inaugurated in December 1914 with just two names, but within three months was taking up a sizeable chunk of the Gazette 's modest news pages.
No doubt some upright-collared predecessor of mine had worked out a routine for dealing with the hand-written 'brief particulars' arriving in Chancery Lane. It is easy to imagine them piling up in a wooden in-tray, each to be acknowledged, edited into a uniform house style and length, marked up for the printing compositors and painstakingly proof-read against the possibility of a misprint. (I've not seen one between 1914 and 1918. Good work.)
In marking the centenary of the Great War, it is a mistake to focus just on those who died - after all, out of every eight men who donned the king's uniform, seven came home alive. But the monthly Rolls of Honour make for compelling reading, each entry packing so much into so few words: name, rank, regiment, a short sentence about the circumstance of death, date of qualification, firm or to whom articled.
A poignant recurring phrase is 'He was articled to his father…', six words encapsulating a bygone profession, and so many lives and hopes shattered by a War Office telegram.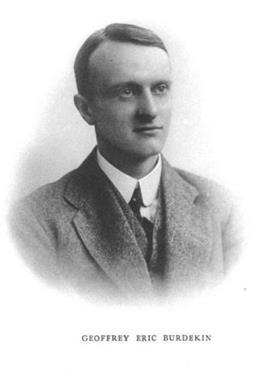 The March 1915 roll opens with one such such articled clerk: Burdekin, Geoffrey Eric, a lieutenant in the Sherwood Foresters and killed in action on 26 January. 'Articled to his father, Mr B.T. Burdekin, of Sheffield.' Geoffrey was 22 and his grave is in Lievin, near Lens, northern France.
There are six more names, a relatively low monthly toll, reflecting the pause in fighting following the first battle of Ypres and the fact that most solicitors and articled clerks who had enlisted in Lord Kitchener's new armies were still training at home.
That doesn't mean they were out of danger. The March roll records that Archibald Willett, admitted in 1902 and who had enlisted as a private in the Royal Fusiliers (Sportsman's Battalion) 'died at Grey Towers Camp, Hornchurch'. The postwar record of service gives the cause of death as cerebro-spinal meningitis.
Perhaps even more tragically, Ernest Simpson, a lieutenant in the Army Service Corps, was 'accidentally shot by sentry at Torquay'. The roll records that: 'He was admitted in 1897 and until recently pracised in London.' Poor Simpson seems to have been a victim of invasion-fever: he had been stopped, with a naval officer, by a nervous patrol and in the altercation that followed a rifle carried by one Private Harris went off, killing both officers. An inquest recorded a verdict of accidental death. It would be interesting to know what happened to Harris.
The rest of the names on the March roll seem to have been routine casualties of trench warfare. All were infantry lieutenants, the rank most commonly held by what the Gazette called 'public school and university' men, and statistically, the most dangerous. Later in the war, junior officers - who were expected to lead from the front - would disguise themselves by wearing privates' tunics and carrying rifles, but in 1915 they would have been conspicuous targets.
The community of solicitors was much smaller a century ago, so in spring 1915, Gazette readers would have begun opening their monthly editions half expecting to see the name of a colleague or classmate. And my stiff-collared predecessor would be glancing daily at his - or perhaps even her - in-tray, wondering how high the pile of brief particulars might grow.