Women first entered the legal profession in 1919 and, according to the Law Society, now make up more than 60% of entrants to the profession. It is no secret that the profession would benefit from taking women's health more seriously – the menopause should be no exception. Sally Davies, chief medical officer for England between 2011 - 2019, advises that 'menopause should be discussed openly at work, like any other topic.' Similarly, a law firm partner I interviewed remarked that 'up until now, menopausal symptoms have been something of a surprise to everyone - women included. It's time to demystify it.'
Most legal employers agree that health, safety and welfare of employees is vital. This consensus should include menopausal women who may require additional support to get through what can be an immensely challenging time. Before that can happen though, we need to open up the conversation, allow a discussion and put in place steps or pathways for women to access support.
'This is a must talk for all employees – regardless of age or sex – and particularly important if a firm is serious about keeping and promoting women into management positions.'

Senior asociate, Hogan Lovells LLP
Luckily, many law firms are waking up. They are starting to implement menopause policies, to nominate 'menopause champions', to deliver menopause awareness training to managers, and hold sessions to engage discussion and make menopause an everyday conversation.
Hogan Lovells International LLP recently hosted a Peppy Menopause talk which was warmly welcomed by staff of all levels.  A senior associate at the firm said: 'What is key for me is that we are starting to normalise discussions around an everyday biological occurrence.  The more we keep the menopause on the agenda, the better prepared working women and their employers will be to adapt working practices that recognise and accommodate changing, and challenging, needs.'
The menopause affects women at all stages of their career. But as women move into senior positions – particularly in the legal profession in which fewer women are in positions of seniority – some report that it is more difficult to acknowledge the symptoms they are experiencing.
Some women hardly have any side effects, but others experience severe symptoms which impact their home, social life and for many, their working life. Around three quarters of women will experience hot flushes – a sudden feeling of intense heat, often accompanied by sweating. Some are hardly noticeable, but others can stop a woman in her tracks: intense sweating, a tomato red face and heart palpitations.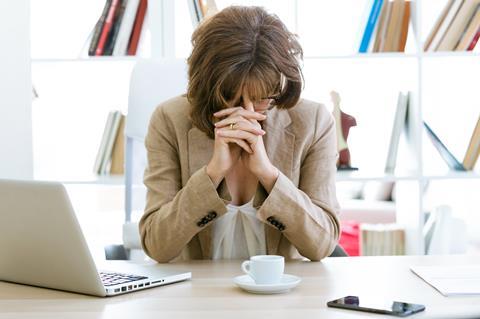 When this occurs, she will need to stop what she's doing, take some deep breaths and wait for it to pass. This is bad enough if it happens while relaxing in front of the television, but it can also strike in the middle of an external meeting with clients or in the middle of a firm-wide presentation which can lead to feelings of acute embarrassment. Corporate attire often makes women sweat even more and is difficult to de-layer. 'There are only so many layers you can take off' is a common refrain.
Other symptoms include mood swings, 'brain fog' and increased anxiety. Poor sleep can lead to tiredness or momentary loss of concentration. Busy work loads and long hours, common in some law firms, become even harder, and commuting even more exhausting. Routine work becomes a major challenge. Women start to wonder if they can do their jobs and their confidence is threatened. They are anxious about being seen to be less competent, so they muddle through not mentioning their menopause to anyone and never really resolving or easing the symptoms.
Usually it passes, although for some women it can drag on for many years. Surveys show that one in ten women who experience challenging symptoms seriously consider leaving their jobs. A partner from a London-based law firm recently told me that; 'it's hard enough proving yourself as it is, without adding hormonal upheaval to your anxieties… whether I like it or not, menopause is perceived as a negative attribute in our firm'. 
The frustrating thing is that symptoms can often be treated but, accessing personalised medical help can be difficult - especially when taking time out for a GP appointment does not fit with women's busy work schedules and demands at home.
With over 3.5 million women in the workplace over 50, and the legal profession, among others, facing retention and advancement challenges for women, there needs to be open, honest, supportive conversations around this important topic. The menopause is a natural, normal life event.
If you'd like to find out more about how you can provide better support for women in the legal sector, please contact me on kathy@peppy.health or click here to attend an upcoming event on menopause in the workplace in partnership with The Law Society.
Kathy Abernethy is immediate past chair of the British Menopause Society and a registered BMS specialist with a private clinic in south west London