A spate of tragic stories hitting the headlines in recent years has drawn much-needed attention to the importance of people considering and recording their wishes for future medical treatment and care in the event that they lose the ability to make decisions for themselves.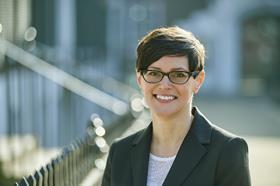 Police officer Paul Briggs was left in a minimally-conscious state following a traffic collision in 2015. His wife Lindsey had to fight a lengthy and traumatic court battle in order to have his wishes respected and life-sustaining treatment finally withdrawn in January 2017. Brenda Grant received treatment for almost 2 years following a severe stroke in 2012 against her previously expressed wishes when her legally binding Advance Decision to Refuse Treatment (often referred to as a 'Living Will') was misplaced by her medical team. In December 2017, her family received a £45,000 pay-out from the NHS Trust which had been treating her.
In the wake of these stories, the charity Compassion in Dying (of which I am Chair) has received an unprecedented increase in enquiries about Advance Decisions and Lasting Powers of Attorney for Health and Welfare (LPA). Between January and May 2018, for instance, the Info Line received a 91% increase in enquiries compared to the same period last year.
Judging by these calls, it appears that there is a real problem with unclear or inaccurate information being provided by solicitors on Advance Decisions, LPAs and how they interact.
Compassion in Dying has received several enquiries from callers who have been incorrectly informed by solicitors that if you make an Advance Decision after an LPA, the LPA is void. One woman was told by her solicitors that she must create a new LPA in order for it to be legally binding, at substantial cost. Other callers report being told wrongly that if you have an LPA you don't need an Advance Decision, that you can include an Advance Decision within the LPA itself, that Advance Decisions require a solicitor to validate them, or that they are only for people with a terminal illness and that an LPA is otherwise more appropriate. Online advice frequently suggests that Advance Decisions and/or LPAs cannot be created without the involvement of lawyers, when information and support is freely available from organisations such as Compassion in Dying.
Confusion about the interplay between an Advance Decision and an LPA is compounded by the fact that there can often be a considerable amount of time (up to three months) between the date someone sends their signed LPA to the Office of the Public Guardian and when it is officially registered. During this time a person may understandably decide to make an Advance Decision in order to reinforce their wishes, or to avoid causing their family members anxiety or distress by having sole responsibility for significant decisions about life-sustaining treatment under an LPA.
It is imperative that people who have strong feelings about their future medical treatment and care are given accurate information and support to record these in a legally binding way. Contrary to some of the advice that callers have told us they received, you can have both an Advance Decision and an LPA for Health and Welfare. They cover different aspects of planning ahead for the end of life and can in fact complement one another if guidance is followed correctly.
An Advance Decision sets out an individual's wish to refuse particular medical treatments in certain circumstances. An Advance Decision can be completed for free without a solicitor using a downloadable form or the My Decisions website, with support from Compassion in Dying. An LPA gives a trusted person(s) the power to make important decisions concerning the individual's medical treatment and care should they lose mental capacity. If someone chooses to complete both, the document made more recently will take priority when a decision needs to be made about treatment or care; however this does not mean that the first document is automatically rendered void.
The guidance offered by Compassion in Dying, based on an in-depth and up-to-date knowledge of the Mental Capacity Act, is as follows:
If you make an LPA after making an Advance Decision – your attorney will be able to override what is written in your Advance Decision, as long as you have given them the power to make the decision in question. However, any decision your attorney makes must be in your best interests. To make a 'best interest' decision, many factors must be taken into account, including your past and present wishes and any written statements. Therefore, if your attorney wanted to override a decision made in your Advance Decision, they would have to prove why that was in your best interests.
If you make an Advance Decision after making an LPA – your attorney will not be able to override what is written in your Advance Decision. In this situation, if a decision needs to be made about something that you haven't included in your Advance Decision, then your attorney will still be able to act on your behalf.
If you have both an Advance Decision and an LPA you should make sure that you tell your attorney about your Advance Decision and give them a copy.
Another point worth clarifying is that an Advance Decision and/or LPA can be made by anyone over 18 with mental capacity, regardless of their state of health. Unfortunately no one knows what's round the corner and a severe injury or sudden illness could leave anyone unexpectedly unable to make or communicate important healthcare decisions.
The increased awareness and interest in planning for treatment and care, as a result of news stories and the campaigning of organisations such as Compassion in Dying, is to be welcomed. Research has shown that those who do so are more likely to have a 'good death' as judged by those left behind.
Death has been overly 'medicalised' in the past, and it can only be a positive thing that power is now being transferred into the hands of individuals, away from doctors, when it comes to important end-of-life decisions. We must ensure that people are given the right information so that they can consider and record their future wishes with confidence and peace of mind.
Victoria Butler-Cole is a Barrister at 39 Essex Chambers.
More Information:
Compassion in Dying ph: 0800 999 2434
Online resources are available for free to everyone.