Since qualifying I have sought, like many others, to apply the skills learnt and used in the profession to the benefit of others outside the day job. There are plenty of opportunities to do that domestically, as I have, at citizens advice bureaux, law centres and events where immediate legal advice is needed, often by the most vulnerable members of society.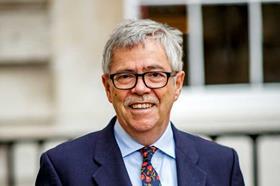 There are, however, also opportunities to join work and projects in other jurisdictions and take our expertise there on a pro bono basis.
I was lucky enough to start to work in Africa in the mid-80s particularly in Eastern Africa. I have since worked in much of the Eastern and Southern anglophone seaboard. These jurisdictions have a different mix of common law, civil law or customary law to different degrees. Historically with much inherited law many looked to English common law as their legal foundation. Unsurprisingly that has changed as African nations started to turn their gaze south, west and east. For instance, there has been huge growth in the influence of China in the continent over the past 40 years.
Working in these jurisdictions often leads to familiarisation with the donor community and their work. My own work and experience as a litigator and in domestic civil justice reform steered me naturally towards the work of donors and others in civil justice, the rule of law and human rights.
And that is where I started doing project work on a pro bono basis. Some project work is undertaken on a funded budget, but my own experience was that the funding covered a small proportion of the work undertaken. I also worked in and with the Law Society's international department on short and/or long-term projects covering similar areas of work.
Like so many activities, undertaking work on one such project leads to other opportunities. I worked with the Law Society on a project in Lesotho on civil justice which then led to a project funded by the Japanese government in Lesotho on the relationship between cultural law, modern law, and procedure. Similarly, I worked with the Law Society in Uganda and was then 'hired' on a project funded by the Danish International Development Agency to review the justice and order service.
The result is that I have had the good fortune to work on projects short and long throughout the African continent, from Libya to the Cape this has been an absolute joy to me. But this pro bono work is available to all. There is a constant flow of projects large and small seeking the expertise of lawyers.
And opportunities can flow from domestic connections and volunteering. I often did this work with lawyers who were experts in their field but fresh to the African continent.
Experience tells me that there are necessary ingredients in the work, which I have seen often ignored:
Sustainability; this is the watchword for all project work. The work we do must produce sustainable results over the long term.
Humility; whilst we may be experts the process is a dialogue with the local community and stakeholders. Equally we are there to learn from them and have a dialogue on how our work and expertise may assist.
Awareness: that dialogue should make us aware of indigenous conditions and resources both physical and cultural. However, we may apply our expertise, we must take these into account. We cannot simply transplant our ideas and experience.
Time and commitment; projects can be hard work requiring time and commitment. It's important to ensure you have the time and space to complete the project which are often time limited. Quite a lot of this work is done at home as desk work. If travel to the relevant country is necessary, it can be a small part of the work required.
Politics; as I learnt on one project little is not touched by politics; that is politics with a lowercase 'p'. Be aware of it.
Fun; there are great opportunities to meet people, have new experiences, and have the opportunity to see and understand the country and the people with a depth beyond the usual tourists. I have gained many tales to tell.
Responsibilities in the UK have taken me away from this work in recent years and pushed me to domestic pro bono but whilst this work has been affected by austerity policies I am reminded constantly of the opportunities available through, for instance, ROLE UK and A4ID, the British Council, embassies through the Foreign, Commonwealth and Development Office, World Bank, European Bank for Reconstruction and Development and, possibly, the commercial providers such as Crown Agents. I have loved this work. It is fulfilling and can have huge value. I do not hesitate in encouraging any practitioner to explore the opportunities for their particular expertise.
David Greene is president of the Law Society