In the last year I have heard many people speak about money laundering, but few were as powerful as the presentation by West Midlands Counter Terrorism Unit at our last Compliance Conference. There were more than a thousand solicitors listening and you could have heard a pin drop.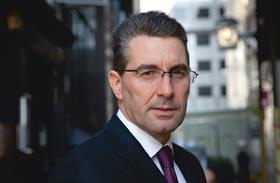 We heard details of how extremists were trying to fund their activities to help plan attacks on UK soil. There were telling examples of how lax processes can be exploited by terrorists to help launder their money - whether it's a 'no questions asked' conveyance or signing-off a name change with no more than a cursory passport check.
The reasons why tackling money laundering matters so much clearly hit home for everyone in the room. Beyond terrorism, money laundering also supports serious crimes ranging from people trafficking to drug smuggling. We all need to understand that the type of work law firms do and the credibility of solicitors makes them an attractive target for terrorists and criminals who want to process their 'dirty money'.
If we don't successfully address the problem, the social, economic and security consequences can be devastating. Doing all we can is also essential if we are to continue to maintain trust and confidence in the legal profession. Trust that is vital to our country's continued success as a leading international centre for legal services.
We regulate around 7,000 law firms who fall under the government's 2017 Money Laundering Regulations. From targeted reviews to using AI to identify firms who are high risk, we are doing a range of work to make sure firms are doing what they need to do.
So how is it going? I am afraid it is a very mixed picture. There is excellent practice out there but, despite lots of information and support, we are seeing that firms are still struggling to get to grips with the 2017 regulations.
For instance, a risk assessment is required in legislation and should be the backbone of a firm's anti-money laundering approach. Firms which do not have one or are not implementing it properly, may be committing a criminal offence and are leaving the door open for criminals to launder money. They are damaging the reputation of the profession and of the UK.
We understand that the overwhelming majority of solicitors want to do the right thing. We have produced a package of support for solicitors to highlight good practice and understand what is needed. The onus is on firms to do what they are being asked to do. Many firms are, but those who are not should be on notice to get their house in order.
We will be writing to a large number of firms in the coming weeks asking to see evidence of compliance with the Money Laundering Regulations. Those who fall short should expect to enter our enforcement process. We will judge each case on its facts, but where we find serious issues or a lack of willingness to resolve issues promptly, we will take strong action. In the last five years, we have referred more than 60 cases linked to potential improper money movements to the Solicitors Disciplinary Tribunal. Those who do not treat the Regulations seriously should expect similar treatment.
It's not just us at the SRA who are concerned. The National Crime Agency are concerned by the low number of suspicious activity reports (SARs) from the legal profession, with numbers falling a further 12 per cent last year. Numbers only tell part of the picture - the quality of the reports is important. The NCA have concerns there as well.
There is a wealth of tips and information available from the NCA on what to look out for and when to report a SAR. Ultimately acting with integrity and upholding the rule of law goes to the very heart of a solicitor's professional responsibility. The stakes are too high for solicitors to be anything but fully committed to preventing money laundering and the crimes it supports. That means taking every opportunity to alert the NCA of suspicious activity - it is a professional duty.
Talking to solicitors after the West Midlands Counter Terrorism Unit's speech, we all agreed how much this issue matters and how serious the consequences are if we do not get it right.
Many are already stepping up to that challenge, but many is not enough. Compliance is not optional.
Paul Philip is chief executive at the SRA