Until now, William Hammerton was best known to assiduous readers of the law reports as the disappointed litigant imprisoned 11 years ago for throwing eggs at a senior circuit judge. In future, he may be remembered for extending the Human Rights Act.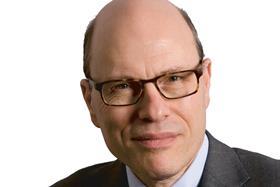 Our story begins in 2002, when Hammerton and his wife Beverly separated after a 25-year marriage. During the divorce proceedings that followed, he undertook not to contact his wife or her family except through his solicitors. He was subsequently ordered not to 'intimidate, harass, or pester' her. In 2005, though, Judge Collins CBE found him in breach. Hammerton received a three-month prison sentence and served six weeks.
His appeal against the contempt finding was not heard until 2007. Lords Justices Moses and Wall found 'grave errors in procedure' and quashed the judge's decision. Collins should not have heard Hammerton's application for contact with his younger children at the same time as his wife's application to have him committed. Hammerton should have been offered legal representation. The sentencing process had been 'fatally flawed'.
Reading through the Court of Appeal's findings afterwards, Hammerton was more than a little put out. He tracked the judge down to the furthest reaches of the Royal Courts of Justice, interrupted a hearing and threw three eggs at him — one of which hit Collins and broke. For this, Mr Justice Ryder gave Hammerton two months in prison – subsequently reduced to 28 days by a sympathetic Court of Appeal. It is not known who paid for the dry-cleaning.
The following year, Hammerton switched to a more conventional mode of attack. He sued the Ministry of Justice, seeking damages for false imprisonment. That cause of action was 'quite hopeless', Mr Justice Blake found in 2009. Equally hopeless was Hammerton's claim for damages under article 6 of the human rights convention, the right to a fair trial. An argument that he had been wrongly deprived of his liberty under article 5 failed on the merits. Blake accepted that legal representation would have resulted in a shorter sentence – 'something in the order of 14 days' – but said there was nothing he could do.
Having exhausted his domestic remedies, Hammerton complained to the European Court of Human Rights (ECtHR). More than six years later, the court found a breach of article 6 but not of article 5. The court also found a breach of article 13 – the right to an effective remedy – because Hammerton had not been able to recover the £6,000 damages that Blake would have awarded him for spending too long in prison.
The government had to pay Hammerton damages and costs. But the broader problem remained: there was still no effective remedy for a breach of article 6 involving an excessive sentence for contempt. The Human Rights Act allows compensation for a judicial act done in good faith, but only if it breaches article 5.
So the government announced plans last month to amend the Human Rights Act. Under the proposals, damages will be available if a defendant is wrongly deprived of legal representation in contempt proceedings and spends too long in prison as a result.
But when will the law change? As the MoJ had to admit, 'current pressure on the legislative timetable means there is little prospect of finding suitable primary legislation to make an amendment in the near future'.
So the government plans to use the Human Rights Act to amend the Human Rights Act. It is well known that the act allows ministers to take remedial action if a judge has declared a statute incompatible with the human rights convention. That was not the case here. But if the minister thinks existing legislation is incompatible with the convention – 'having regard to a finding of the ECtHR' – remedial action is also permitted.
That action can include amending primary legislation, so long as a minister thinks there are 'compelling reasons'. There are indeed, said the new justice minister Edward Argar. Laying a draft remedial order before parliament on 17 July, he said there was a need to change the law 'swiftly'. But not 'urgently' – under this procedure, 60 days will be allowed for representations on the draft. Parliament's joint committee on human rights is seeking written submissions on the Hammerton clause by the end of next month.
It is good to see the government complying with its obligation to implement Strasbourg rulings – although there is something faintly disturbing about using legislation to amend itself. It is even better to see laws that encourage proper legal representation for defendants facing contempt proceedings. But Kris Gledhill, Hammerton's counsel, complained that the planned amendment was 'ridiculously limited' to his client's factual situation and would simply encourage claimants to find other breaches of article 6 that resulted in improper detention.
And Hammerton himself? He told me he was still waiting for someone to apologise.