'I'm here to see Judge Vajda,' I tell the receptionist at the EU Court of Justice. She looks at me blankly through the bomb-proof glass. It is less than a week since Brexit and the UK's former judge already seems to have become a non-person.
Many phone calls later – it turns out that I have come to the wrong entrance – Christopher Vajda QC welcomes me to his spacious chambers at the Luxembourg court. Though he is no longer being paid a judge's salary – a significant concern for someone with a young family – he can keep his room while he decides what to do. His référendaires – four highly qualified judicial assistants who are recruited directly by each judge – are being redeployed to other members of the court.
Vajda has the option of returning to Monckton Chambers, where he used to practise – though he regards advocacy as inappropriate for any former judge. He has become a visiting professor at King's College London.
But it seems obvious to me that Vajda, 64, should apply for a senior judicial appointment in London. He had a broad public law practice at the bar and would be well placed to decide the many EU law issues that are bound to come before UK courts. 'It's a possibility,' he concedes. 'Certainly an option.'
You might have thought the lord chancellor would have encouraged him to apply. If the UK had stayed in the EU, Vajda would have remained a judge until 2024 or beyond. Indeed, given that the European Commission can continue to bring infringement proceedings against the UK until 2025 over any alleged breaches of EU law this year, the government should surely have pressed harder for UK judges to keep their jobs, at least until the end of the transition period.
'It's a pity that has not happened,' Vajda tells me. Did the government do all it could? 'I have no reason to doubt that,' he says. 'The UK had a very weak hand.'
Another former judge at Luxembourg believes the government could have done more. Ian Forrester QC was a member of the EU's General Court, which deals mainly with competition law, state aid, trade, agriculture and trade marks. He points out that judgments of the EU courts will continue to affect the UK for years to come and that those decisions would have benefited from having British judges on the court. 'If that argument was made by the government,' says Forrester, 'it was not successful.'
What offends Sharpston, a lawyer who first swore her loyalty to the EU court as a référendaire in 1987, is that the EU states have taken it upon themselves to decide a question of EU law
Though he is leaving the court five years early, Forrester, 75, says he and his colleagues are well able to look after themselves. He regarded it as a huge privilege to have served a court with 2,000 staff speaking 24 languages. Forrester asked if he could keep his judicial robe – hoping that, as a Scot, he might need it again.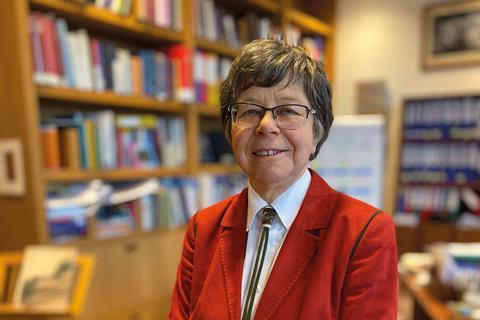 Eleanor Sharpston QC (pictured) is one of the advocates general whose role is to sit with the court and deliver advance opinions that help the judges decide the most difficult cases. Uniquely among the three members of the EU judiciary who were nominated by the UK, she has kept her job – for the moment at least. A press release issued by the court on 31 January explained that the number of advocates general remains fixed at 11 – unlike the number of judges, which depends on the number of EU member states – and, under the court's statute, Sharpston would stay on until a successor could take over.
Two days earlier, EU member states had asserted that the mandates of all members of EU institutions appointed in relation to the UK would 'automatically end' on 31 January. But the court's statute – primary EU law – says that the mandate of a serving member can be terminated only for specific disciplinary reasons by the court itself, acting unanimously.
What offends Sharpston, a lawyer who first swore her loyalty to the EU court as a référendaire in 1987, is that the EU states have taken it upon themselves to decide a question of EU law. On 31 January, the court's president Koen Lenaerts formally asked member states to set in train the appointment of a new advocate general. Greece is next in line and the process of selecting a Greek candidate to succeed Sharpston is already under way.
Meanwhile, Sharpston's name is still on the court list and she is continuing to deliver opinions. Her mandate is due to end in October 2021. If she is forced to leave early, will she take the EU to an EU court?
'I have not made up my mind,' she says carefully. 'It may be that the very last service I can render to my court is to see whether there is something I can do to push back against the member states intruding into the court's autonomy and independence.'