Are we reaching a turning point in how equality of opportunity is assessed and to be achieved? In the musical My Fair Lady, Henry Higgins wondered 'Why can't a woman be more like a man?' and at times it feels as if our concepts of gender equality have been predicated on the same basis. Women have less money, power, influence, all apparently because we don't behave like men. We persistently select legal specialisms like family law over corporate M&A, take roles in-house rather than in glass edifices in the City, work part-time rather than all through the night. The inexorable logic of this analysis is that if women behaved exactly like men, they would achieve the same results.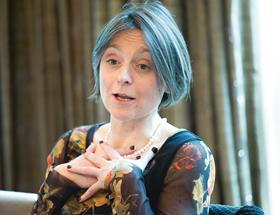 It seems to me that people have tried behaving like men with skirts, and it hasn't worked. Men who feel strongly about something at work are passionate and applauded for it. Women who feel strongly about something at work are emotional and derided for it. Studies abound showing men are promoted on potential whereas women are promoted on experience; men talk over or don't hear what women say (Sandberg, S (2013) Lean In: Women, Work and the Will to Lead); well-motivated men make decisions for women that may kill careers with kindness (Beker, J.C. and Wright, S.C. (2011) Yet Another Dark Side of Chivalry Journal of Personality and Social Psychology, Vol. 101 (1) 62-77). Some of these biases are attributed to socialised masculine behaviour and some to unconscious bias. Getting women to behave like men is not the answer.
So full marks to the Law Society and Simon Davis for looking at the role of gender equality particularly the importance of corporate culture. This isn't an isolated example of attempting to answer something people have grappled with for years, but part of a much wider change in how we think about achieving equality. The Fawcett Society found in 2016 that 39% of men felt greater gender equality would be better for them personally, and 70% of men believe a more equal society between men and women will be better for the economy.
The report tallies with work done by Murray Edwards College at the University of Cambridge, Collaborating with Men. I have to declare an interest here, as I am an alumna of the college and Wedlake Bell were one of many organisations participating in the research. The work was prompted by a survey of the college's graduates which found that impediments to career progress were based more on workplace culture than on barriers presented by balancing work and family – which wasn't the expected result. What Virginia Woolf described as the 'pram in the hallway' remains terribly relevant, but is no longer the standout most important factor. With the intellectual curiosity of dons, Murray Edwards looked at what steps individuals and organisations could take to change culture. With my bias declared, I commend the report to you all.

I loved the idea of junior women mentoring senior men, to help them walk in their shoes. At university I was helped by male friends who repeated any question I asked, in a tutor group where the supervisor didn't 'hear' me, and that amplification technique works just as well in the workplace. If you're chairing a meeting, do you challenge interruptions or tolerate them? We can all take action to change culture, whatever rung we inhabit on the corporate ladder. Gender equality is not a women's issue or a problem that women need to fix in a man's world, but a challenge for us all.
One final point to make. If you look at the online comments on articles about gender equality in publications like the Gazette or the Financial Times (though possibly not the Guardian), you will see anonymous readers suggesting that women don't get promoted because they're just not as good as men. Cambridge University has some way to go before it can be confident that it is teaching the most intelligent students regardless of background, but there's no doubt that a survey of its graduates will cover bright, hardworking people with plenty of middle class privilege and sharp elbows. The ability of those surveyed by Murray Edwards College is probably not a key issue in holding them back at work. So why can't a woman be more like a man? Perhaps the answer is that we are more ambitious than that.
Suzanne Gill, Wedlake Bell LLP, writing in a personal capacity