The importance of role models and mentors cannot be overstated when it comes to improving social mobility in the legal profession. My own journey to the law demonstrates the impact that role models and mentors could have on the lives of disadvantaged students.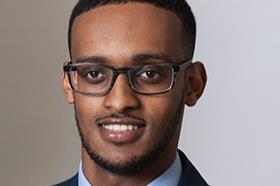 I was born in Somalia. When I was two, my family and I fled the civil war. I spent my early childhood in Kenya; first in the Utange refugee camp and later in Eastleigh, a densely populated neighbourhood in Nairobi. A rather eventful start to life, one may say.
When I arrived in the UK aged 11, I could not speak a word of English, having had no prior formal education. I attended a secondary school in a troubled part of North West London (Harlesden) which at the time was under 'special measures'.
Over half of the students spoke English as a second language and a significant minority were in the early stages of learning the language. It was not uncommon to find classes of 30 without a single fluent English speaker. Nonetheless, I was incredibly lucky among my peers. What I lacked in social capital or schooling I had in role models.
My late aunt (and guardian) encouraged me from early on not to let my background or the absence of people who looked like me (in senior positions) deter me from pursuing my career goals. Her attitude to life embodied one of my favourite African proverbs: God gives nothing to those who keep their arms crossed.
My aunt, like myself, fled the civil war in Somalia. Unlike me however, she spoke four languages (Somali, English, French and Italian). An elegant former schoolteacher turned businesswoman back in Somalia, she had impeccable sense of self and tenacity. Her sense of optimism and can-do attitude was inspiring.
When I expressed a desire to pursue a career in law during my A-levels, she probed how I planned to achieve that; a simple yet effective method of encouraging one to focus on the practical steps one could take to improve their prospects.
I knew no lawyers, no one in my family had read or practised law. So, I did what I thought would help, which was to seek work experience.
Gaining work experience proved to be much more involved than I had anticipated. I sent dozens of speculative emails to law firms and barristers' chambers in London requesting work experience.
The responses, when they came eventually, were disheartening and almost always the same; 'Thank you for your interest in our firm or chambers, Qalid. Sadly, we do not currently offer work experience to A-level students nor are able to accommodate requests for such'.
The one exception was Matrix Chambers, which offered me a week's work experience. During my week at Matrix I built a rapport with one of the clerks, who was gracious in organising a shadowing experience for me with Cherie Booth QC. Cherie was kind and encouraging, enough for a young person with no connection to the law to leave her chambers with a resolve to pursue a legal career.
By the time I started my law degree at SOAS, University of London, I was fairly certain that I wanted to be a lawyer. I had the good fortune of being taught by Professor Werner Menski, who took upon himself to ensure his students not only excelled academically but were fully aware of the career options that were available to them.
I trained and qualified at Ashurst before joining Sidley Austin in 2019. My journey to qualifying as a solicitor was not seamless by any stretch of the imagination. There were many hurdles along the way, many setbacks, some more painful than others.
Every step of the way, however, I had mentors, often from backgrounds very different to mine, who were generous with their time, advice and present when it mattered the most.
Sadly, for many of my peers from secondary school, the law seemed out of reach. They neither had visible role models to emulate nor mentors to guide and advise them on their career aspirations.
Research has shown that a lack of visible role models and low social capital can have detrimental effect on young people's perception of their ability and access to the legal profession. This is especially true of Black, Asian and Minority Ethnic students from disadvantaged backgrounds.
Fortunately, the last 10 years has seen a plethora of excellent outreach programmes connecting practitioners from diverse backgrounds with state school students. Initiatives like PRIME, Speakers for Schools and the Law Society's Social Mobility Ambassador scheme go a long way to levelling the playing field by giving pupils from disadvantaged backgrounds access to mentors and role models.
The Law Society's Social Mobility Ambassador scheme selects 10 solicitor ambassadors every two to three years from non-traditional backgrounds to share their experiences of entering the legal profession, including the challenges they faced and how they overcame them.
Reflecting on their career path, each ambassador gives practical tips and advice on pursuing a career in law, providing inspiration and valuable insight for students considering a legal career.
I hope by sharing my story I can encourage others not to let their socio-economic backgrounds or ethnicity dissuade them from pursuing a rewarding legal career.
Qalid Mohamed is an associate in Sidley Austin's financial services regulatory team in London and a social mobility ambassador for the Law Society of England and Wales