In these tumultuous times, I am reminded of a quote from Abraham Lincoln. 'Discourage litigation. Persuade your neighbors to compromise whenever you can. As a peacemaker the lawyer has superior opportunity of being a good man. There will still be business enough.' Lincoln, himself a lawyer, led America's civil war, abolished slavery and reformed the US economy.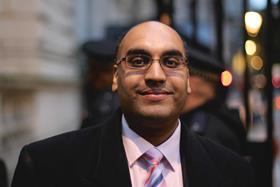 There are similarities to the current civil war across the pond. One small country has taken on the might of 27 others. It wants a divorce, to which the bigger protagonist has reluctantly agreed, and all that is left to do is negotiate which party gets what and settle a final bill. At every twist and turn, persuasion and compromise appear to have failed. Britain's latest prime minister has been left reeling from his defeats in the highest court. Brexit may not have been as bloody as a 19th century war, but it has left the scars of battle which, once it is over, will need to be healed. But what can we lawyers do to put balm on the scabs which have divided not only a nation, but a continent?
What is exercising legal business is whether we will be losers post-Brexit. One of our roles must be to make sure we offer the best legal advice possible. Whichever side we are on in the argument over the Brexit debate, this advice should be accurate, unbiased and for the benefit of our client. That much is clear. What is unclear is the veracity of the blizzard of figures coming out from the remainer and leaver camps. We are now in the realms of 'lies, damn lies and statistics', as former Conservative prime minister Benjamin Disraeli once said.
For example, in February, when he was foreign secretary, Boris Johnson told the BBC that the UK's trade with the EU had been declining rapidly in the last 10 years and that it had fallen to about 44%. An hour before, the most senior civil servant in the department for international trade, Sir Martin Donnelly, said on the same Radio 4 programme: 'If we leave the Customs Union and the single market, then we are taking away the equal access that we've got to 60% of our trade – nearly half directly with the EU and another 12% or so through EU preferential trade deals.' As lawyers, we must interrogate such figures and find out the truth. Otherwise, we will give bad advice to our client.
As it happens, in this case both are right, depending on the timeline and context. In 2016, UK-EU export of goods and services was about 43% or £241bn, significantly down from around 54% in 2006. To make matters more complex and confusing, while the proportion of UK exports going to the EU has fallen over the last decade, their value has risen by about 14%. In Sir Martin's case, the Office for National Statistics verifies his claim. His 49% figure – 'nearly half' – refers to exports and imports. He is also right about the 12% figure, because these are deals made by the EU which the UK would have to renegotiate or operate under World Trade Organization rules.
At the moment, the EU has 40 trade deals with other countries. This means that while the UK remains a member, it can benefit from tax-free tariffs on most goods. Once we leave, and if we do so without a deal, we lose that cloak of benefit. But we should not lose heart. When it comes to doing trade with the Commonwealth, things look much brighter. Research by the Commonwealth suggests that as a result of our common legal system, language and history, trade between member states is 19% cheaper.
Let us take India as a case study. According to Invest India, the UK is the fifth-biggest investor in India, British companies employ 800,000 Indian employees and there are 25,000 joint research projects. With one of the youngest and growing populations, the opportunities are immense. But it is not just one-way traffic. Take the case of Ola, the cab-hailing app. Ola successfully conquered the Australian and New Zealand markets, and now has its sights on Britain. This means Ola goes up against established players such as Uber and Addison Lee. Ola has obtained licences to operate in south Wales and Greater Manchester, but its USP is that it will be the only company which will offer customers a chance to book both private hire and black cabs.
Taking on the big boys plays right into the narrative of Indian prime minister Narendra Modi, who was buoyed by his landslide general election victory earlier this year. What the UK has so far failed to understand and capitalise on is the fact that there are 1.45 million Indians here who provide what Modi calls 'a living bridge' between the two nations. To paraphrase the old axiom, you can take the Indian out of India, but you can't take India out of the Indian. Without wishing to stereotype, most Indians gravitate towards business in some form or another. It does not matter which field; we Indians love to negotiate and influence, and what the UK has failed to exploit is the soft power its British-Indian citizens can exercise on a country only 4,200 miles away by air. Modi gets that and that is why he is making doing business easier. In 2018, Bloomberg Media Group's Nation Brand Tracker put India in top spot for, among other categories, strategic location, export markets, low cost of production, high quality production and, wait for it, anti-corruption. With that kind of affirmation, little wonder India-UK trade relations seem a no-brainer.
Yet we in the UK are missing a potential cash cow – literally. According to the India Brand Equity Foundation, agriculture provides a living for 58% of Indians. Yet farmers are not only among the poorest in India, they also trail a sector in which India and China are leading the way – financial technology (fintech). We may not know it, but most of us are practitioners of fintech. If we have used online banking on our phones, if we have booked cinema tickets or paid for drinks in a cafe using our phone, then we are part of the fintech revolution. So why is fintech a potential lifesaver for Indian farmers? One of their biggest problems has been the intermediary who brokers loan deals and takes a huge chunk of their income. Imagine a UK company that can do away with the need for intermediaries and use technology to link a farmer with a lender. Of course, literacy may be a problem, but companies can overcome that by using robots and artificial intelligence to help the farmer and his family by keeping it simple.
And what about weather forecasting? In 2011, the economist Jeffrey Lazo estimated that forecasting is a £366bn industry. All it takes is for one smart, innovative entrepreneur in the UK to wake up to the opportunities available. The Indian farmer relies on the weather, and the longer and more accurate the forecast the more efficient their business.
Once again, excuse the stereotype, but Indians lead the way in information technology. The website Towards Data Science found that India has a larger proportion of developers with a college major in a computer science-related field compared to the rest of the world. Its developers are much younger, and they are more competitive and ambitious. Outsourcing to India and Indians flocking to Silicon Valley in America are not new, and the UK with its visa restrictions is behind the curve when it comes to seeing the potential of its former colony. Only recently does the UK seem to have woken up to what it is missing. The announcement that the government is to let students stay for two years, rather than the current four months, after they finish their degree is great news for higher education institutions such as mine (the University of Southampton).
Our India Centre for Inclusive Growth and Sustainable Development leads the way in researching the benefits of historical, cultural and business links between our two countries. We now have more than 200 Indian students studying a variety of subjects at various levels. Our goal, while ambitious, is simple – we want to create a globally recognised centre of excellence to share innovation and knowledge.
We already recognise that in this new era we need to enable stronger and fruitful partnerships between Southampton and India. What is disappointing is that business remains cautious. I understand that Brexit is causing uncertainty, but taking calculated risks is what every profitable entrepreneur recounts when asked how they succeeded.
Do not take my word for it. In June, the Commons foreign affairs select committee concluded that the UK was not doing nearly enough to engage with India. MPs on the committee believe that we have been chasing Chinese business instead. When it comes to recruiting students, the gulf between Chinese and Indian students is around 80,000 in favour of China. Why is this important? The committee believes that India should and will play a bigger role in the Commonwealth, which spans a third of the world and has member states in every continent. Parliamentarians have woken up to the fact that India is a key trading partner post-Brexit, and she needs to be wooed.
But without lawyers few deals will succeed, and this is where we need to be cute. According to some commentators, we were late to understand or join the globalisation and export of legal services. We started in the 1990s, exploring investment services in Hong Kong and China, but we are way behind in emerging markets such as India. Brexit uncertainty means firms need us more than ever to make sense of it all. According to the economist Jim O'Neill UK law firms will need to be invested and in place for some considerable time. Yet UK law firms will need to overcome barriers. Because Indian law prohibits foreign firms from setting up offices in country, companies will have to use loopholes, which lawyers specialise in finding. Try this one. When it comes to transnational issues, non-Indian firms can operate if they work with local law firms and cooperate with the Indian National Bar Association. This idea is already being tested in China with a London-based law firm, Herbert Smith Freehills, partnering its Chinese business with a local company. It has recognised that with China investing so heavily around the globe, there is money to be made.
Another route is to employ local lawyers under a UK umbrella. Given a population of 1.3bn and the number of British companies in India, there will certainly be enough work. Not only that, post-Brexit there will be more deals to be done and these will need legal services. Mergers and acquisitions, and foreign investments are hot practice areas, as are corporate law, project finance and technology transfers. Legal services are a fruitful and growing industry and something that the UK can and must embrace. The business argument is that UK companies will probably want to deal with UK law firms.
As someone who advises firms about the virtues of seeing business opportunities in India and delivering them from start to finish, I have had to completely review the way I practise. For me, the clue is in the last sentence of Lincoln's message: 'There will still be business enough.' Being a lawyer, I would add a codicil: only if we are brave enough to see and embrace the potential that a post-Brexit world affords us.
Amarjit Singh is CEO of the India Business Group, a lawyer and special adviser for India to The University of Southampton