Scottish advocates have been accused of double standards after complaining about the practice of solicitors referring clients to solicitor-advocates within their own firm.
In an article for Scottish newspaper The Herald, Roddy Dunlop QC, treasurer of Scotland's Faculty of Advocates, said the 'process of internal instruction can be both anti-competitive and contrary to the interests of clients'.
Dunlop wrote: 'The split nature of the legal profession means that the solicitor is the "gateway" for any client facing litigation. Counsel have no direct contact with clients in litigation and may only act in litigation if instructed to do so by a solicitor. If any given solicitor chooses only to instruct members of his or her own firm for cases in the Supreme Courts, there is nothing that counsel can do about that.'
The Faculty recommended that a review of the legal profession in Scotland, overseen by non-lawyer Esther Robertson, consider tackling the problems posed by internal instruction, including the need for informed consent.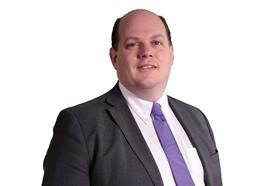 But Will Richmond-Coggan (pictured), chair of the England and Wales-based Solicitors Association of Higher Court Advocates (SAHCA), has hit back at the criticism. He said for the bar to seek to undermine clients' confidence in solicitor advocates, 'while at the same time seeking to promote their own "one stop shop" in the form of direct access', only serves to illustrate where the real barriers to competition are.
He told the Gazette that although it is essential for consumers to be made aware of all the options, SACHA clients also understand the benefit of a litigation and advocacy expert taking on their case from 'cradle to grave'. He added: 'That is not to say that barristers are not regularly instructed. They are, and should continue to be, where that is in the client's best interests.'
A spokesperson for the Bar Council said: "Our view is that of putting clients' interests first – they should always have a say in their choice of advocate and that ultimately the advocate ought to be the best person for the job.'