Barristers have had to work harder over the last few years as the quality and reach of solicitors has widened, Supreme Court justice Lord Sumption has said, in a speech in which he also ventured an 'unpopular' view of civil legal aid.
Speaking to the annual Bar and Young Bar Conference in central London on Saturday, Sumption described how the profession has changed - from his early years as a barrister nearly 50 years ago, to his recent years as both advocate and judge.
He defended criminal legal aid, saying it should be paid by the government 'whatever the cost'. However, he said he believed much of civil legal aid budget is 'discretionary' and not fundamental when compared to criminal defence.
Sumption said governments must ensure criminal defendants are not left as litigants in person. But other parts of the justice budget 'really are discretionary, even if the bar are apt to forget the fact'. That includes, he said, much (but not all) of civil legal aid. 'Supporting the cost of civil litigation may be desirable in cases where people are too poor to fund it themselves. But it is not fundamental in the way that criminal legal aid is fundamental.'
Sumption added: 'In the first place it [the bar] has overstated its case, by failing to recognise that we cannot return to the open-handed approach to legal aid that prevailed in the 1970s.'
He added that barristers will never enjoy the same support as doctors and teachers and that public demonstrations with 'wig on head look ridiculous'.
He said: 'The only real weapons are to refuse to take instructions for inadequate fees.'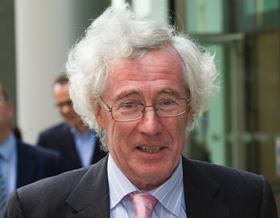 Sumption, who will reach the Supreme Court retirement age of 75 in two weeks' time, said that in his early years solicitors were a different animal known for their 'deference' to barristers who were essential at providing expertise on a case.
Now, however, 'it's no longer acceptable' for barristers to collect a fee by simply looking and sounding authoritative, as solicitors have just as great an understanding of the law. The two professions have developed 'a great deal of mutual respect', he added.
However, he noted that barristers have continued to hold a near monopoly when it comes to rights of audience. Bar fears over the impact of granting solicitors rights of audience ended up being a 'damp squib'.
'Those who donate their whole lives to advocacy will be better placed to deliver it than those for whom advocacy is just one part,' he said.
At the same conference, attorney general Geoffrey Cox QC MP bemoaned a lack of senior legal figures in the House of Commons. Cox, stressing the importance of independent administration of justice, said he would like to see more senior lawyers express an interest in politics and holding high office. Cox said he was under no illusions of the importance of his role and that he would 'never let political views get in the way of upholding administration of justice'.