Shamima Begum, deprived of her UK citizenship after joining the Islamic State group in Syria as a schoolgirl, today lost her fight to enter the country in order to fight the deprivation order. In a unanimous ruling, five Supreme Court justices, led by Lord Reed, found that the Court of Appeal had erred when it ruled last year that Begum would be denied a fair and effective hearing by being kept out of the country.
The decision in effect kicks the case into touch until it can be heard without compromising public safety.
In Begum v Secretary of State for the Home Department, the court heard three appeals relating to proceedings surrounding Begum. Finding for the home secretary, Lord Reed ruled that the right to a fair hearing did 'not trump all other considerations, such as the safety of the public'. In this case, the Court of Appeal had erred by making its 'own assessment of the requirements of national security, and preferred it to that of the home secretary', he said.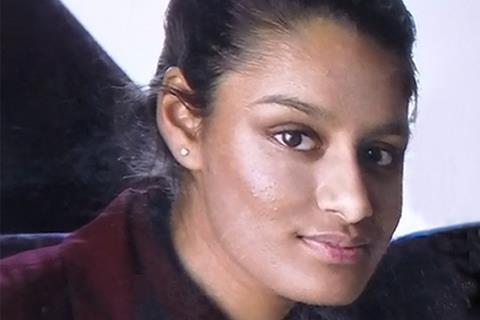 'As I have explained, if a vital public interest - in this case, the safety of the public - makes it impossible for a case to be fairly heard, then the courts cannot ordinarily hear it. The appropriate response to the problem in the present case is for the appeal to be stayed until Ms Begum is in a position to play an effective part in it without the safety of the public being compromised. That is not a perfect solution, as it is not known how long it may be before that is possible. But there is no perfect solution to a dilemma of the present kind.'
Human rights group Liberty, which intervened in the case, condemned the ruling. Lawyer Rosie Brighouse said: 'The right to a fair trial is not something democratic governments should take away on a whim, and nor is someone's British citizenship. If a government is allowed to wield extreme powers like banishment without the basic safeguards of a fair trial it sets an extremely dangerous precedent.'
Sir James Eadie QC, Jonathan Glasson QC and David Blundell QC, instructed by the Government Legal Department, appeared for the appellant; Lord Pannick QC, Tom Hickman QC and Jessica Jones, instructed by Birnberg Peirce Ltd, for the respondent.
This article is now closed for comment.