Rosenblatt, the fourth firm to float on the London Stock Exchange in its own right, aims to raise £43m from its initial public offering (IPO) – a figure which would make it the most lucrative law firm listing to date.
According to a filing posted today on the junior AIM market, the firm said it will place 36.8m new shares and £8.4m existing shares at 95p per share.
The IPO represents a 48.3% stake in the firm, meaning existing owners will retain a controlling interest. Institutional shareholders notified to be taking a stake are Fidelity Investments (6.6%), Miton Asset Management (15.8%), Blackrock (6%) and Canaccord Genuity Group (3.6%).
If the quest for £43m is successful it would surpass the current record sum raised by a law firm set by Gateley, whose listing in 2015 raised £30m. The float would value Rosenblatt at £76m.
The other two IPOs by law firms, Gordon Dadds and Keystone, raised £20m and £15m respectively.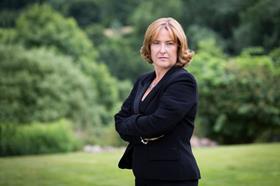 Rosenblatt announced last week it will be admitted to the Alternative Investment Market on 8 May as Rosenblatt Group plc, a holding company for alternative business structure Rosenblatt Ltd.
The 20-partner firm, which founded by dispute resolution and corporate specialist Ian Rosenblatt OBE in 1989, specialises in financial services, banking and real estate. Ian Rosenblatt, who currently owns 59% of the business, will make millions on the sale but remain the largest shareholder with 21.1%.
Among the firm's recent deals was acting for Daily Express publisher Northern & Shell in the £127m sale of its newspaper business to Trinity Mirror.
The firm's nominated adviser and broker is Cenkos Securities PLC.
Speaking last month, chief executive Nicola Foulston (pictured) said the firm was 'focused on improving margins and profitability, compared to traditional legal partnerships run by lawyers, which concentrate on revenue and often lack commercial expertise'.