The National Crime Agency (NCA) has admitted acting unlawfully in assisting Thai police investigate, arrest and convict two Burmese men sentenced to death for the murder of two British backpackers. Campaigners against the death penalty said the disclosure raises questions about the UK cooperation with authorities in countries with dubious human rights records.
The admission by the NCA appears in a High Court settlement of an application for judicial review brought on behalf of Zaw Lin and Wai Phyo, convicted in Thailand in 2015 for the murders the previous year of Hannah Witheridge and David Miller. The so-called 'beach murders' case attracted widespread publicity and Metropolitan Police officers travelled to Thailand to assist in the investigation.
Material passed on to the Thai authorities included records from one of the victims' mobile phones, and social media data. However, this was not made available to the defence in a trial which campaign group reprieve says was 'marred by widespread allegations of corruption, incompetence and fabricated evidence'.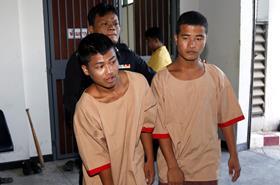 In 2015, the High Court in London denied an application under the Data Protection Act for the disclosure of a British police report into the case.
Reprieve said that the one-sided provision of assistance in a death penalty case goes against the policy set out in the Overseas Security and Justice Assistance Guidance which requires government agencies to seek approval at the highest ministerial level in cases where assistance given to another country could result in human rights abuses or a death sentence.
Reprieve director Maya Foa said: 'It is bad enough that the National Crime Agency secretly handed over evidence to help secure death sentences in a country known for unfair trials and torture. But they now admit they did this illegally, without any proper thought that their actions could contribute to a grave miscarriage of justice with two men now facing execution. UK cooperation with foreign police and security forces should be open and transparent. Government agencies shouldn't have to be dragged through the courts for the public to know what is being done with their money.'
Zaw Lin and Wai Phyo have appealed to the Thai Supreme Court. Although Thailand has the death penalty for 58 offences, no executions have been carried out in the country since 2009.