International law firm DLA Piper is reportedly among the victims of a global cyber attack today. The BBC is reporting that the attacks appear to be similar to the WannaCry 'ransomware' attack, which hit several NHS hospitals last month. In these attacks the perpetrators demanded payment of a ransom in bitcoins to release data locked up by a software 'worm' exploiting a vulnerability in computer operating systems.
It was feared that those types of attacks could be extended to law firms in the future.
The current attacks are primarily targeting businesses based in Ukraine, Spain, France and Russia.
The Gazette attempted to call the DLA Piper's London office but could not be connected. The firm's website still appears to be working.
DLA Piper is the world's largest law firm by revenue posting £1.5bn last year. More than 1,000 partners work at the firm, inclduing around 450 equity partners.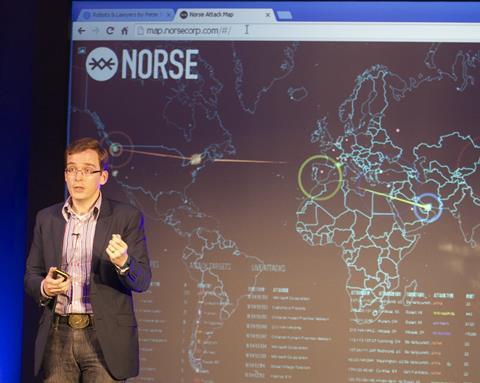 Peter Wright, chair of the Law Society's Technology and Law Reference Group and managing director of DigitalLawUK, said if one of the largest law firms in the world did not have the adequate safeguards in place to protect against a ransomware attack then it begs the question who does.
Wright said it is possible the firm may have been targeted in some jurisdictions over others as it would use different operating systems in different countries. 'For a law firm there are obvious risks, there could be a client database or an archived database that is not as secure as first thought. Further, confidential client emails are likely to be on a firm's systems.'
Peter Groucutt, managing director of disaster recovery experts Databarracks, said ransomware is popular because it is a 'low-investment, high-yield' form of attack, with little technical barrier to entry.
He added: 'Larger organisations with valuable datasets and a public reputation to protect obviously represent high-value targets, and often attract the most sophisticated attacks as a result.'
The current attackers are reportedly demanding $300 in Bitcoin, along with the victim's Bitcoin wallet ID and personal installation key. Although some ransoms were paid in the Wannacry attack, security experts believe that none of the digital currency was collected from the victims' wallets.