The government's legal aid reforms suffered a new blow today when a High Court judge quashed controversial changes in the way it procures duty contracts for housing. The court was ruling on a judicial review brought by the Law Centres Network (LCN), heard over two days last month.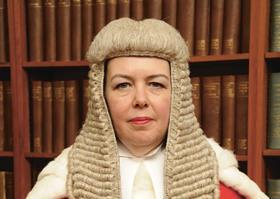 In a judgment published this morning, Mrs Justice Andrews accepted the network's challenge to the MoJ's decision to proceed with a controversial new tender which the LCN would drastically consolidate the scheme and introduce price competition. The proposal will now be remitted to the MoJ for reconsideration.
In a stinging ruling, the judge said that the government had failed to demonstrate that any minister considered the impact of the changes on equality.
The MoJ's changes centred on the housing possession court duty schemes (HPCDS), which offer on-the-day face-to-face advice and advocacy at court to people facing possession proceedings.
Under the scheme, anyone in danger of eviction or having their property repossessed can get free legal advice and representation on the day of the hearing, regardless of their financial circumstances.
The MoJ, despite opposition in an earlier consultation, is consolidating the number of court duty schemes, from 113 to 47, to provide 'larger and more sustainable' contracts. The ministry also decided to introduce price-competitive tendering despite objections.
Julie Bishop, director of the Law Centres Network, said: 'This JR arose from our deep concern about the impact of changes, proposed for no good reason, on people about to lose their home. With early legal advice almost entirely cut, duty desks are key to reaching people who could not find or access prior help.
'How can legal aid be a public service that is fit for purpose if it only solves part of people's problems? We are sick to death of changes being imposed that have no regard for the real-life situations people face. Rather than thinking up problems that do not exist, this is the problem that the MoJ should solve.'
According to Andrews' judgment, the justification given to ministers for the proposed changes - that small schemes were already proving to be unsustainable and providers were pulling out because they were not earning enough from the HPCD work - was not evidence-based and was 'based on assumption or conjecture or, at most, "anecdotal" evidence from a handful of un-named providers'.
Andrews added: 'In this case, I regret to say that the evidence falls a long way short of demonstrating that any minister (in person) gave due regard to the equality impact of the proposed changes.
'There is a real risk that in consequence of the restructuring of scheme areas, clients using the HPCD service will no longer have the same access to the "wrap around" services that are not covered by legal aid and which may make all the difference to whether they end up homeless and destitute, that is something that the ministers should have been made aware of, and should have given due regard.'
An MoJ spokesperson said: 'Our proposed reforms recognised the value of this vital service and made no change to the funding provided, however we will carefully consider this judgment and respond in due course.
'There will be no immediate impact on those needing emergency housing advice, nor representation for homeowners facing repossession and we will ensure this is the case going forward. Last year we spent over £1.7bn on legal aid - over a fifth of the department's budget - to ensure help is available for those who need it most.'
Law Society president Joe Egan said: 'The court has been highly critical of the MoJ's approach to policy-making and decisions. Some of the flaws can be seen in other decisions the MoJ has taken affecting our members and the justice system, and we hope that this will lead the ministry to rethink their approach.
'Solicitors told us that these plans will increase their costs and not deliver any financial benefits. It is the people faced with losing their homes that would be impacted by any loss of services.
'We also saw considerable problems in price-competitive tendering being introduced into this area. The cheapest offering will not necessarily be the best and it could result in a race to the bottom which may impact on professional standards. We were proud to support the LCN in bringing their JR.'
Supporting documents
Click link to download and view these files