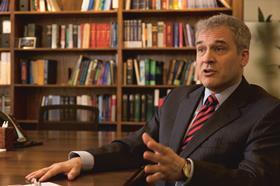 Courts and tribunals are beginning to rule that the European Convention on Human Rights (ECHR) 'trumps public international law', a specialist in international public law claimed last night.
Robert Volterra, partner at public international law firm Volterra Fietta, warned that the practice was 'eroding provisions of public international law', adding: 'Embassies and officials need to know this.'
Volterra was speaking at an event on state and diplomatic immunity in the English courts. The event at the Indonesian Embassy discussed laws surrounding state and diplomatic immunity – particularly with regard to employment law.
Both Volterra and Dan Sarooshi QC, who were part of a panel discussion, referred to the Supreme Court's 2017 ruling in Benkharbouche v Secretary of State for Foreign and Commonwealth Affairs, in which it found in favour of two former employees at the Sudanese and Libyan embassies.
The women, Ms Jadah and Ms Benkharbouche, took the embassies to the employment tribunal after being dismissed. Part of their complaint centred on EU law. Both embassies responded to the complaints by claiming state immunity.
Under the State Immunity Act 1978, a foreign state is immune from the jurisdiction of a UK court in claims based on the state's employment of the claimant where the claimant (i) at the time of complaint is neither a UK national nor resident or (ii) if they work for the state's diplomatic mission.
The tribunal dismissed both claims, accepting the embassies' arguments. However, on appeal, the Employment Appeal Tribunal overturned that decision ruling that the 1978 act is incompatible with the EU Charter of Fundamental Rights and Freedoms and the ECHR. The Court of Appeal upheld that judgment as did the Supreme Court.
Volterra said the courts' interpretation of the law had begun to change and embassies were becoming a target for employment claims. Although that is mainly happening elsewhere in Europe and 'has not really caught on' in the UK, embassies should nevertheless stay aware, he added. Volterra said embassies should make sure they understand the rules of the jurisdiction and carry out periodic training of officials and risk assessments.