Putting tax payments or property transactions on blockchain - or issuing a Bank of England-backed digital currency - would help entrench English law as the forum of choice for resolving crypto disputes, the master of the rolls has said in a constitutionally daring intervention into policy-making.
In a speech to a Bank of England symposium on digital assets yesterday, Sir Geoffrey Vos said that despite the crash in the global value of cryptocurrencies - from $3 trillion to $1 trillion in the past nine months - the sector 'must surely be taken seriously'. The distributed ledger technology (DLT) which underpins decentralised finance 'offers advantages that will inevitably be taken up across the financial and industrial sectors,' he said. 'The advantages of the blockchain are so obvious that they will inevitably be taken up over time.'
'A big economic prize' will follow if UK jurisdictions become the legal backdrop of choice for the sector he said.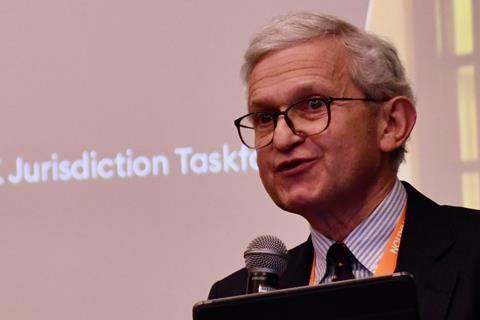 The UK is 'moving in the right direction, but needs a more holistic approach to its direction of travel'. Vos noted that the Law Commission will shortly publish proposals for legislation to put the legal status of crypto assets beyond doubt. Meanwhile the Civil Procedure Rules Committee is expected to expand the grounds on which proceedings can be served out of jurisdiction - a feature of many claims involving crypto assets.
The government could also assist through light-touch regulation - and by committing to 'a major new project' to demonstrate its commitment to new technologies, he said. While stressing that 'no judge can even consider telling any government which project would be most economic, most effective and most economically beneficial,' Vos noted that 'I have suggested several such projects'. These include 'putting VAT on-chain, digitising the Land Registry or the intellectual property registries, or even issuing a UK central bank digital currency'.
While all these projects would be costly and time consuming 'I believe that it is time for a detailed cross-departmental consideration of whether, when and how one or more of these projects could be initiated.'
The Law Society Commercial Litigation Annual Conference 2022
Wednesday 7 September 2022, 1.30pm - 5.20pm (online)
This year's conference will focus on developments in the areas of the Hague 2019 Judgements Convention, ESG (Environmental, social and governance) litigation impacts, witness statements and digital assets.
Find out more here.