MPs have urged Sri Lanka's government to honour its commitment to create a 'South Africa-style commission' to handle cases related to atrocities that occurred during the country's civil war.
Sri Lanka set out its intention to create a Commission for Truth, Justice, Reconciliation and Non-Recurrence to the United Nations Human Rights Council in 2015. A resolution co-sponsored by the Sri Lankan government noted that accountability is 'essential to uphold the rule of law' and confidence in the justice system. It also noted Colombo's proposal to establish a judicial mechanism led by individuals known for their 'integrity and impartiality'.
South Africa confronted apartheid-era crimes through a similar body, the Truth and Reconciliation Commission, which sat between 1996 and 2000.
The Sri Lankan commission would track down missing people as well as set up a criminal justice mechanism and compensate victims. Successive governments in the island nation have promised to investigate crimes committed by both sides during the civil war, in which government forces and separatist rebels - the Liberation Tigers of Tamil Eelam – fought a 26-year war.
However, a debate in Westminster Hall heard that the government should provide a timescale for implementing the proposals so as not to reach an 'impasse'.
Conservative Paul Scully, MP for Sutton and Cheam who called for the debate, said: 'We are not there to run the country for them, but we want to ensure historic cases of abuse are dealt with in a firm but fair way and that abuses don't continue.' A UN traffic-light system rating how the government was progressing on implementation of the resolution showed 'far too many red lights', he said.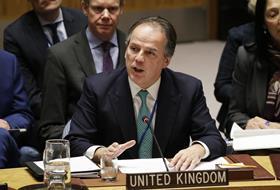 In response, Mark Field, minister of state for Asia and the Pacific, said there has been some small recent progress but that it had been 'slower than we would have anticipated or liked'.
Field noted that draft legislation for a truth-seeking commission has been prepared and that legislation to establish the judicial mechanism is under review. He added: 'We absolutely expect the government to implement in full their commitments made in good faith in the aftermath of a time of terrible conflict. As a close partner but also as a candid friend, we shall continue to support and encourage the Sri Lankan government to make further and faster progress.'