New rules to help the courts trace cryptoassets overseas are being drawn up to deal with the increasing volume of litigation in this area, the master of the rolls revealed yesterday. 'In the world of crypto fraud, there are no national barriers and unlawfully obtained cryptoassets can be difficult to trace,' Sir Geoffrey Vos told an audience of lawtech specialists in London.
While litigation concerning cryptoassets is 'increasing significantly', cases are 'proving complex because of the difficulty of applying our historic analogue rules to the digital environment', Vos said. To tackle the problem, a sub-committee of the Civil Procedure Rules Committee will look at amending or expanding the grounds on which proceedings can be served out of jurisdiction.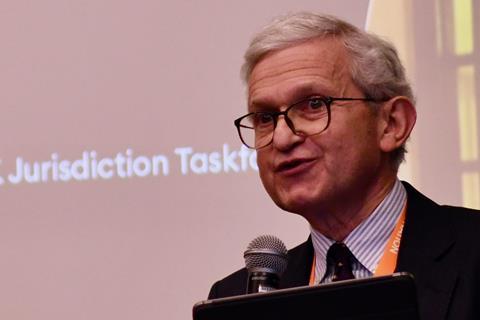 'It is that obstacle that has impeded many sets of proceedings aimed at tracing the proceeds of crypto fraud,' Vos said. The new rules would make it easier to order a third party to disclose documents relating to the account of someone who can be shown to be prima facie responsible for a fraud, he said.
Vos was speaking at an event organised by the government-backed Lawtech UK initiative to promote the adoption of so-called 'smarter contracts'. These include self-executing contracts secured by blockchain technology. This 'is not something that might happen in years to come; it is happening now', Vos said.
Conceding the existence of a 'credibility gap', Vos said the smarter contracts project could 'dispel the myth that blockchain is a fringe technology used only by those wanting to risk their livelihoods or possibly make their fortunes on volatile cryptoassets like Bitcoin'.
'The blockchain is now at a stage in its development equivalent to where the internet was in or around 1995,' he said. 'The internet was unstoppable in 1995 and blockchain technology is unstoppable now. It will become ubiquitous in all major industrial and financial sectors, simply because it allows for the immutable recording of data, thereby reducing friction in commercial and consumer transactions and obliterating the scope for dispute as to what has occurred.'