Pakistan's most senior judges have been praised for their courage in overturning a death sentence passed on a Christian woman for insulting the Prophet Muhammad. In a 56-page judgment published today, the Supreme Court in Islamabad allowed an appeal by Asia Bibi, convicted of blasphemy in 2010.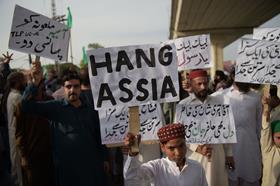 A three-judge bench headed by Chief Justice of Pakistan Mian Saqib Nisar came to an 'inescapable and irresistible' conclusion that the prosecution had failed to prove its case beyond reasonable doubt. The judges were defying personal death threats and the promise by an Islamist political party to 'paralyse the country within hours' if Bibi was set free.
Bibi's arrest and conviction followed an argument with muslim women in 2009. The Supreme Court judgment notes that 'the alleged incident, being a heinous crime and involving religious sentiments, attracted the media, both electronic and print, and generated both grief and rage in the public at large'.
Bibi was condemned under an article added to the Pakistan Penal Code following independence stating: 'Whoever by words, either spoken or written, or by visible representation or by any imputation, innuendo, or insinuation, directly or indirectly, defiles the sacred name of the Holy Prophet Muhammad (peace be upon him) shall be punished with death, or imprisonment for life, and shall also be liable to fine.'
Bibi's lawyer Saiful Malook told news agency AFP: 'The verdict has shown that the poor, the minorities and the lowest segments of society can get justice in this country despite its shortcomings. This is the biggest and happiest day of my life.' Malook has faced death threats since acting for the prosecution following the assassination of Punjab governor Salman Taseer - an opponent of the blasphemy law.
The secretary general of the opposition Pakistan Peoples Party, Farhatullah Babar, commended the Supreme Court judges for 'refusing to be cowed' over their verdict.
Amnesty International's deputy South Asia Director, Omar Waraich, said: 'This is a landmark verdict and an important victory for religious tolerance in Pakistan. For nearly eight years, Aasia Bibi, a poor Christian farmhand and mother of five, had her life languish in limbo. On the basis of no credible evidence, she was sentenced to death in 2010. The people who spoke up for her were threatened and even killed.'