EU-era data protection laws would be replaced by common-law based UK legislation under a list of proposals for a 'bold new' post-Brexit framework proposed by a working party set up by the prime minister today.
In its final report, the Task Force on Innovation, Growth and Regulatory Reform (TIGRR), chaired by Conservative former leader Sir Iain Duncan Smith, says that exit from the EU 'creates a one-off opportunity to set a bold new UK regulatory framework, based on a set of principles embedded in UK common law'.
Its proposals include reforms to the regulation of high-tech fields to encourage innovations in areas such as spaceflight, pharmaceuticals and agriculture. Overall measures include a new 'proportionality principle' to replace the EU's 'precautionary approach' which the group says has led to innovations being 'stifled due to an excessive caution'.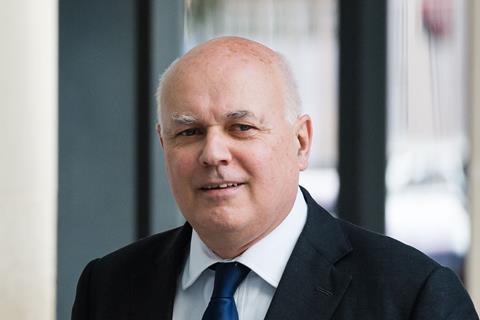 The report blames a 'Napoleonic, code-based, civil law approach' for what it calls the 'restrictive nature of today's regulatory environment'. The English common law and Scots law systems would 'allow regulators to apply simpler rules'.
To encourage growth in the digital economy, the group proposes replacing the current 'UK GDPR' wth 'a new, more proportionate, UK framework of citizen data rights'. A common law approach would allow case law to adapt to new technologies such as artificial intelligence and blockchain. It also proposes that anti-money laundering burdens be reduced for the benefit of new open banking and fintech services.
The group also proposes that the licensing regime for cannabinoid pharmaceuticals be moved from the Home Office to the Department of Health and Social Care and for the Civil Aviation Authority to be given more powers to better regulate the use of drones.
Freed from the 'precautionary principle' the UK should 'actively support research into and commercial adoption by UK farmers of gene edited crops, particularly those which help the transition away from agrochemicals to naturally occurring biological resilience.'
On a more mundane level, it also proposes amending the 1985 Weights and Measures Act to allow traders to use imperial measurements without the equivalent metric measurement.
The Prime Minister's Office said today that Boris Johnson has written a letter to the taskforce members, thanking them for their work.