Critics who allege that deferred prosecution agreements allow big businesses to evade the full force of the law are guilty of misplaced 'cynicism'.
So said Mr Justice William Davis, who approved the UK's fifth DPA at Southwark Crown Court this morning. This involves outsourcer Serco, which was yesterday fined £19m as part of a settlement with the Serious Fraud Office over electronic tagging contracts with the Ministry of Justice.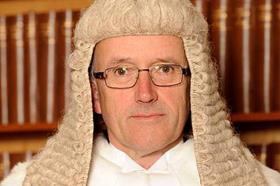 The deal has attracted criticism, and led to renewed calls for public contracts run by outsourcing giants to be brought back in-house. But Mr Justice Davis concluded in his judgment: 'There may be some cynicism about the process by which a corporate entity can take advantage of a DPA. This cynicism is not well-founded.'
The judge stressed that in previous DPAs, judicial approval was granted only after 'the clearest possible demonstration of integrity on the part of the company concerned' once the criminal activity had become apparent. This requires 'early self-reporting to the authorities, full co-operation with the investigation, a willingness to learn lessons and an acceptance of an appropriate penalty'.
The judge added that Serco had demonstrated this and shown an appropriate 'willingness to learn lessons via real, substantial and continuing remedial measures'.
Serco continues to tender for and win UK government contracts. Earlier this year, the outsourcer landed its biggest ever deal, a £1.9bn contract with the Home Office to run asylum support services.
Elsewhere, the judge notes that the SFO argued it would be 'disproportionate' and against the public interest for Serco to be barred from government procurement exercises. But he added: 'If the effective consequence of approval of the proposed DPA were to be that [Serco] could continue to supply services to government departments whereas the company would not be able to do so in the event of a conviction, I doubt whether I would give approval.
'Public concern over the way in which public services are provided by private companies is real. For me to take a course which would amount to a favourable determination of the position of a private company vis-à-vis public procurement would involve me in a quasi-political decision. That is not the function of a judge.'
However, Mr Justice Davis added that he was nevertheless able to approve the DPA because this approval 'will not be the deciding factor in what is a political decision'.
An SFO charging decision pertaining to any individuals are expected by 18 December, the judgment states. Mr Justice Davis ordered postponement of publication of the statement of facts in the DPA case, as this could prejudice any future proceedings.