A brace of high profile judgments handed down in the same day by the new head of the High Court's media list have set a benchmark in compensation awards for serious libel. In Jamal Hijazi v Stephen Yaxley-Lennon, The Honourable Mr Justice Nicklin awarded damages of £100,000 to a Syrian-born man defamed by the political activist known as Tommy Robinson.
Meanwhile, ruling in a case which had proceeded via the Supreme Court, Nicklin J. awarded damages totalling £120,000 against two newspapers over their handling of false accusations against a French citizen living in Dubai.
The Yaxley-Lennon case was brought over two Facebook videos made by Yaxley-Lennon, founder of the English Defence League and described in the judgment as a 'well-known public figure on the political right'. The videos alleged that a schoolboy who had appeared in a widely circulated video apparently being bullied 'violently attacks English girls in his school'.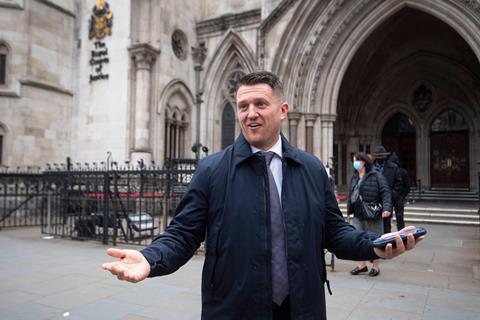 Yaxley-Lennon, who was declared bankrupt earlier this year and appeared without representation, attempted to defend the allegations as true. However Nicklin J dismissed witness statements on his behalf as falling 'woefully short' of proving the truth.
Judgment was originally due to be handed down on Monday but delayed to yesterday because of what the judge said were threats by Yaxley-Lennon to republish his allegations. However he commended Yaxley-Lennon's conduct in court, saying 'he complied with all the court's directions and there were only a couple of instances when I had to intervene in respect of some of the questions asked of witnesses'.
In Lachaux v Independent and Evening Standard, Nicklin J. lambasted the conduct of two newspapers who had attempted to defend publication of allegations of domestic abuse with the 'public interest' defence created by the 2013 Defamation Act. The judgment found that neither newspaper had made sufficient effort to contact the man at the centre of the allegations. 'Strikingly, there are no documents that record, or even refer to, the decision-making process that led to the original publication of the articles,' the judge observed in a remark likely to be closely scrutinised in newspaper offices.
The Lachaux case has already featured in legal history through the 2019 Supreme Court judgment concerning the meaning of 'serious harm', a threshold for libel actions also created by the 2013 act. 'Mr Lachaux's name is likely always to be associated with the interpretation of s.1 Defamation Act 2013,' the judge remarked.
In Hijazi v Yaxley-Lennon, Catrin Evans QC and Ian Helme, instructed by Burlington Legal, appeared for the claimant; the defendant appeared in person.
In Lachaux v Independent and Evening Standard, Adrienne Page QC and Godwin Busuttil, instructed by Taylor Hampton Solicitors, appeared for the claimant; David Price QC and Jonathan Price QC, instructed by David Price Solicitors, for the defendants.