A solicitor-advocate has qualified as a barrister because of what he says is the 'widespread perception' that barristers are better advocates than solicitors.
Peter Causton said he feels more comfortable appearing as a barrister - but is still retaining his solicitor PC.
While numerous practitioners have switched from one branch of the legal profession to another, Causton said he believes he is first in England and Wales to hold simultaneous practising certificates as a solicitor and a barrister.
He told the Gazette: 'In my experience, there is still a widespread perception in the courts and among the public at large that barristers are better advocates than solicitors. I feel more comfortable appearing in court as counsel rather than as a solicitor-advocate since I only obtained rights of audience by virtue of having trained at the bar.'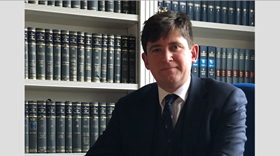 Causton is now able to appear in court as counsel while keeping his solicitor role separate. Causton is also a mediator and chief executive of mediation provider ProMediate.
He added: 'I enjoy advising clients and guiding them through the litigation process. I would not be conducting litigation as a barrister, but only representing clients at court as an advocate. I see the two roles as being distinct.'
A letter to Causton from bar regulator the Bar Standards Board (BSB), seen by the Gazette, granted his request for a waiver from a rule in the BSB Handbook that prevents people from holding two practising certificates at the same time.
Causton must keep the two practices separate and make it clear in what capacity he is acting.
He added: 'I think that clients will be happy for me to represent them as independent counsel, rather than as a solicitor advocate employed by a firm. More flexibility can only be a good thing for lawyers wanting to work together in new ways.'
Will Richmond-Coggan, chair of the Solicitors Association of Higher Court Advocates (SAHCA), told the Gazette that the advocacy training available to barristers is world-class. But he stressed that there are other routes to developing high-quality advocacy skills, 'including the training offered by SAHCA itself.'
Richmond-Coggan, who dual-qualified in 2004 but practises exclusively as a solicitor-advocate, added that solicitors' firms have been faster to embrace new ways of working and technology.
'For me and for a number of my solicitor-advocate colleagues within the association, I know that there is no question that for the provision of a full cradle-to-grave litigation service, the efficiencies and support structures that are available through operating within a law firm are the only way to be confident of delivering good, high quality service of the standard that our clients expect,' he said.