A special court could be set up to prosecute serious crimes under international law committed in Myanmar, a UN report accusing the country's authorities of genocide has proposed. Such an 'ad-hoc international criminal tribunal', along the lines of those formed in Rwanda or the former Yugoslavia would be an alternative to referrals to the International Criminal Court in the Hague, which are open to veto by members of the UN Security Council.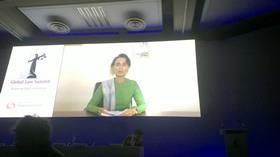 The report of the Independent International Fact-Finding Mission on Myanmar, published yesterday, concludes 'on reasonable grounds that serious crimes under international law have been committed that warrant criminal investigation and prosecution'. It found that the treatment of members of the country's Rohingya minority by the Myanmar's security forces amounted to 'genocidal intent'.
Specific crimes against humanity committed in Myanmar include murder; imprisonment; enforced disappearance; torture; rape, sexual slavery and other forms of sexual violence; persecution; and enslavement, the report states.
The mission, established by the UN Human Rights Council in March 2017, has drawn up a non-exhaustive list of alleged perpetrators of crimes, including senior army officers including Commander-in-Chief Senior-General Min Aung Hlaing. The report is also highly critical of the civilian authorities, saying that 'through their acts and omissions' they have contibuted to the commission of atrocities. In particular, 'The state counsellor, Daw Aung San Suu Kyiu, has not used her de facto position as head of government, nor her moral authority, to stem or prevent the unfolding events.'
The report concludes that 'impunity is deeply entrenched in Myanmar's political and legal system', effectively placing the Tatmadaw (the military) above the law.
It calls for the situtation to be referrred to the International Criminal Court in the Hague or for an ad-hoc international criminal tribunal to be created. In the meantime, an independent impartial mechanism should be created to collect, consolidate, preserve and analyse evidence of violations.