The GMB trade union has opened a new legal action in the campaign against businesses treating workers as self-employed contractors. The union says it has begun legal action against logistics company UK Express, which carries out deliveries for web retail giant Amazon.
UK Express is a courier company headquartered in Birmingham but is advertising for drivers across the UK. GMB has already begun legal action against delivery company DX and taxi company Addison Lee in its fight over the so-called 'gig economy'.
The GMB said UK Express drivers are workers, and potentially employees, on the ground that it claims Amazon can impose control on drivers, sanction them for 'poor performance' and require them to pay for van hire. The online retailer also requires drivers to be available for 15 days per month and money is deducted from a driver's pay if they cannot work, the union said. Neither Amazon nor UK Express would comment.
If drivers were classed as workers rather than self-employed they would be legally entitled to 5.6 weeks paid annual leave per year, the national minimum wage, increasing to £7.50 next month, paid rest breaks and whistleblower protection.
In October last year, an employment tribunal ruled that drivers who brought a claim against taxi-hailing business Uber were workers and that Uber was wrong to label them 'self-employed'.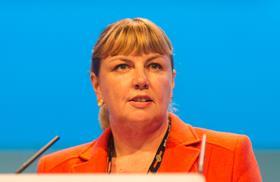 Maria Ludkin (pictured), legal director at GMB, said: 'This is another case in a long line of legal battles around bogus self-employment. UK Express deliver for some of the world's largest companies, in this case Amazon. The drivers delivering for Amazon – like Uber drivers and delivery drivers for DX – cannot be classed as anything other than employed when you look at the law.'
Nigel Mackay, a lawyer in the employment team at Leigh Day, which is representing GMB, said: 'We believe Amazon should require its contractors to provide workers with their legal entitlements, including paid holiday and national minimum wage, and to stop fining staff if they are unable to work.'
A government review into modern employment practices, being carried out by Royal Society of Arts chief executive Matthew Taylor, is expected to recommend legal clarification of the status of 'worker' as a half-way house between employed and self-employed.