Crowdfunding should not be seen as an alternative to a properly funded legal aid system, the founder of the Crowdjustice website has said, insisting the platform is best used for those who have a 'story to tell'.
Julia Salasky said the website can work for people who cannot afford to bring a case but for whom legal aid is not available.
The former Linklaters solicitor, speaking at a Law Society event this morning, was responding to comments from Richard Gowthorpe of North Kensington Law Centre.
Gowthorpe said the centre had been visited by justice secretary David Gauke who 'expressed an interest' in crowdfunding. Gowthorpe sought reassurances that crowdfunding should not be seen as a reason to cut legal aid further.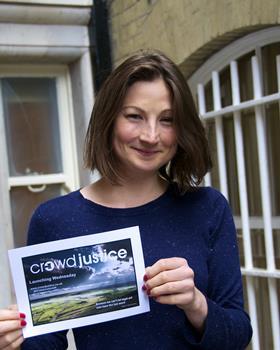 Salasky said she wasn't aware of any sentiment to that effect from the lord chancellor but said: 'Making statements like that without engaging first with those active in the area of legal aid would be a mistake.' She added: 'It cannot work instead [of legal aid]. It should be directed at people who are not eligible for legal aid but cannot afford to bring their case and provide a way for them to share their story'.
Salasky was giving one of a series of 'future of law' lectures in Chancery Lane.
She said the platform allowed people to share humanistic and compelling stories that are not 'too legalistic'. Five cases that were funded on the platform made their way to the Supreme Court and 85% of cases meet their funding target, she said.
Salasky also addressed concerns that such platforms could be exploited by money launderers. Crispin Passmore, executive director at the Solicitors Regulation Authority, yesterday told the Law Society's anti-money laundering conference that crowd-funded litigation is a 'really easy way to launder money'.
Salasky said she recognised the potential vulnerability of platforms but said all pledges are kept in a regulated solicitors' client account that background checks, including on politically exposed persons, are carried out if donations appear suspicious.