Who? Ranjit Sond, member of BMELawyers4Grenfell and president of the Society of Asian Lawyers.
Why is he in the news? BMELawyers4Grenfell has petitioned for an urgent review of the composition of the Grenfell Tower inquiry panel, after expressing concerns about the lack of diversity and seeking assurances that the terms of reference will be interpreted widely.
Thoughts on the case: 'The Grenfell Tower fire was an avoidable tragedy with tragic consequences for at least 80 people who are known to have died. It is the biggest disaster in recent times. The public inquiry will be an opportunity for the survivors and relatives of those who lost their lives to seek answers to searching questions as to why the tragedy happened and how it could have been avoided.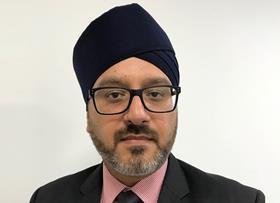 'There are real concerns about the inquiry panel not being diverse and not representing the Grenfell community and that is something we have petitioned the government and inquiry chair to address. We hope the concerns of the community are taken on board.
'BMELawyers4Grenfell is an umbrella organisation consisting of leading BME lawyers and community justice groups, who have been working severally and jointly for over 30 years in the pursuit of justice in our communities. We are joined and supported by survivors, residents, volunteers and the community. Our aim is to work with others to seek justice for survivors, families and the community. The object of this organisation is to ensure that justice and accountability is secured for those affected by the disaster.'
Dealing with the media: 'Dealing with the media can be tricky as often you do not know which side of the line they sit on and how the news will be reported. Care has to be taken as to which interviews are given to ensure that the news is reported correctly in the right context and not twisted in any way. It is therefore best practice to have a pool of trusted journalists or media outlets to whom you can report sensitive matters.'
Why become a lawyer: 'I believe everybody, regardless of their background or means, should be able to have access to justice. I wanted to become a lawyer to help people gain that access.'
Career high: 'Being elected president of the Society of Asian Lawyers last year.'
Career low: 'Any case where you are unable to achieve the objectives of your client is disappointing. Thankfully, there haven't been many of those.'