Partner, Northamptonshire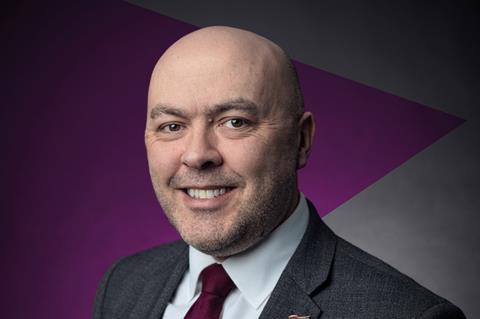 Who? Kevin Rogers, partner, Wilson Browne Solicitors, Northamptonshire.
Why is he in the news? Teamed up with broadcaster John Griff to record a charity single to raise money for the Lewis Foundation, a cancer support charity run by solicitor Lorraine Lewis. The single was released on 4 February, which was World Cancer Day.
The journey towards recording the song: 'I used to sing in bands and choirs and a couple of years ago I sent my mother a video of me singing along to karaoke… she encouraged me to share the "have a go" approach, and #singingsolicitor became a thing on LinkedIn.
'My then best friend (and solicitor) Graham Hill died of skin cancer in 2012. I had been involved with a few charity songs with John Griff, and we were both aware of the Lewis Foundation. In his memory and for the many people living with cancer, we decided to help. The aim is to raise awareness and money through donations or the song – a cover version of Billy Bragg's Tank Park Salute, which is about a son who lost his father to cancer.
'At the time of writing, we have raised more than £1,500: almost three times our original target, and enough to pay for more than 415 gifts. I hope people will check out the song or visit and donate at www.justgiving.com/fundraising/tankparksalute.'
Dealing with the media: 'The local press and radio have been brilliant. They know Wilson Browne Solicitors as one of the country's largest firms, but I guess they don't always expect the chair to do anything other than serious legal work! I am also the president of the Northamptonshire Chamber of Commerce and both these roles give me a certain platform, which I am delighted to use to share such a brilliant story and raise awareness for the charity.'
Why become a lawyer? 'My mum and dad told me I would be good at it (and said that I would be too slow to be a footballer). I was the first in my family to go to university.'
Career high: 'My mum was proud of me being Northants Solicitor of the Year in 2016, and would have loved that I was a National Finalist at the 2020 Excellence Awards. But I would say a certain factory I saved after a long trial in Sheffield some years ago, when we successfully defended a misconceived product liability claim, thereby preserving 16 jobs and 16 mortgages. The staff took me out for a drink.'
Career low: 'A commission-only job selling wills to the client bank of an IFA over the telephone. I left at lunchtime on the first day because I didn't like their practices (and hadn't sold anything).'