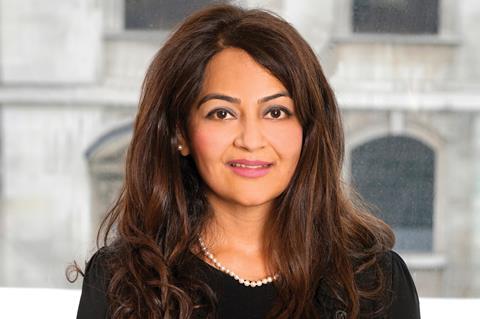 Who? Shazia Khan, a founding partner of Cole Khan Solicitors, London.
Why is she in the news? Successfully represented Omer Karim, a consultant urologist, in a landmark race discrimination claim against the General Medical Council at Reading Employment Tribunal. Khan said the GMC subjected her client to a prolonged discriminatory fitness to practise prosecution.
Thoughts on the case: 'This is a landmark judgment in which my client successfully sued his regulator, the General Medical Council, for breaches of the Equality Act 2010. The tribunal expressed concern about the level of complacency and operation of discrimination in the work of the GMC and discrimination infecting the referral process. The GMC's announcement to appeal the ET's judgment is a convenient distraction from the glaringly obvious, that disparity of treatment exists in disciplinary investigations and prosecutions of white and BAME doctors. Leaving these inequalities to fester is institutionalised discrimination within the GMC. The judgment secured by my client is relevant to all regulated professionals, and their regulators. We are likely to see more Equality Act claims against regulatory bodies.'
The GMC is appealing. A spokesperson said: 'Unfortunately this case took longer than we would have wanted due to delays, including waiting for the outcome of two trust investigations. We recognise that there is concern about the way in which referrals to the GMC are handled, and we are working hard with health leaders to eradicate inequalities where they exist. We remain absolutely focused on our work to target inequalities and promote equality, diversity and inclusion – both in our own processes, and across the UK health system.
Dealing with the media: 'We believe this is the first judgment whereby a regulated professional has successfully sued his regulator for race discrimination. The media has been extremely supportive and widely reported on the devastating effect of the GMC's conduct on my client's professional career and personal life. My client has received an overwhelming outpouring of support from his professional community, for which he is immensely grateful.'
Why become a lawyer? 'I am passionate about equality and that it should not be the privilege of the few.'
Career high: 'Setting up Cole Khan with Emilie Cole in May 2021. This enables me to wake up each day and make a positive difference.'
Career low: 'The continued demonisation of "activist human rights lawyers" by the government is abhorrent. The anti-lawyer rhetoric has no place in a modern democracy and has to stop.'