Growing firm Nelsons Solicitors has added fresh talent to its family law team with the appointment of four new experts.
With more than 18 years' experience between them, solicitors Natasha Roberts and Priti Vadgama, and paralegals Seetal Patel and Serina Mehmi will be bringing their expertise and knowledge to the Leicester team based on New Walk.
Natasha – who specialises in domestic violence, child arrangements and care proceedings – is returning to Nelsons after she moved to Birmingham for her training contract in 2015.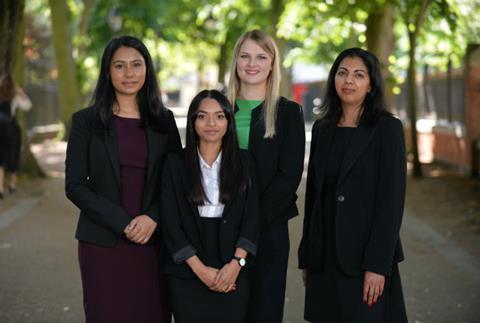 She said: 'I am very proud to have returned to Nelsons, which is a firm that continues to grow and be forward-thinking and progressive while maintaining upmost professionalism.
'The best part of my job is going to court and working to achieve what is in the best interests for the children involved in the cases that I handle. I am looking forward to developing my legal knowledge and progressing my career at Nelsons.'
Priti, who specialises in child care law with a particular emphasis on care proceedings and special guardianship, is a Law Society children panel and family panel accredited specialist. She qualified as a solicitor in 2004 and has joined Nelsons from Scutt Beaumont Solicitors.
She said: 'I am delighted to have joined Nelsons as the firm has an excellent reputation and the team has experts in all aspects of family law. I was attracted to Nelsons because the firm works in a very progressive way and has invested in technology to enable you to work wherever you are which helps us to deliver a first-class service for clients. I am looking forward to achieving the best possible outcomes for all of my clients.'
Natasha and Priti will be supported by paralegal Seetal, who also specialises in advising on children law and domestic violence matters. Serina, who advises on divorce, financial settlements and change of name deeds, will be working with family law partner Emma Davies.
Emma said: 'We are delighted to welcome Natasha, Priti, Seetal and Serina to Nelsons. They have the expertise, professionalism and compassion to deal with sensitive and complex cases and I look forward to seeing them flourish in their new roles.'
Nelsons has one of the largest teams of specialist family solicitors in the East Midlands with a reputation as leaders in its field.