Surrey law firm Barlow Robbins has today announced that it has promoted two of its lawyers to its partnership this year.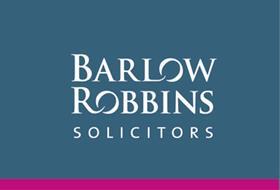 Commenting on the promotions, Barlow Robbins' chairman Helen Goatley, said: ''These individuals exemplify the firm's values, culture and calibre of talent. It is an absolute pleasure to be announcing these promotions, particularly as both Emma and Ben are 'home grown' having joined the firm as trainees. The promotions also represent the continued investment that the firm is making in legal sectors to independent schools and the growth of the firm's work in personal injury, which differentiates Barlow Robbins from others in the wider market.'
She continued: 'Both the independent schools and personal injury teams have seen considerable growth in the last few years, which Emma and Ben have played a huge part in. We all look forward to supporting them as they help drive the firm's future vision and development for 2018 – to be the premier law firm of choice in all our chosen markets delivering a first class client experience, where all our people feel engaged, developed and rewarded.'
The new partners are:
Emma Potter - Guildford - personal injury and clinical Negligence - Emma joined Barlow Robbins as a trainee and has built a practice representing adults and children who have had accidents regardless of how these occur. Emma's particular expertise is focused on cases where individuals develop complex regional pain syndrome (CRPS) or other chronic pain conditions. She also has significant experience in accidents at work and the associated health and safety issues. She is known for her ability to understand and always act in the best interests of clients and is regularly reported as exceeding their expectations. Emma is a member of the Rotary Club of Guildford and a trustee for Surrey Clubs for Young People.
Ben Collingwood - Guildford - schools and charities - Ben joined Barlow Robbins as a trainee. He specialises in advising independent schools and other charities on wide ranging areas of education law, with particular focus on reputation, safeguarding and pastoral issues, historic abuse allegations, data protection, pupil admissions, special educational needs and exclusions, parent/pupil complaints, parent contracts, and contentious and non-contentious employment/HR matters.
Ben is widely sought after for his expertise in these areas for speaker opportunities and is a regular contributor to publications providing commentary to members of the media. He is a school governor, trustee of his local parochial church council and is a member of the Institute of Directors serving as the Surrey Branch Legal Ambassador, the Employment Lawyers Association and the Lawyer's Christian Fellowship.
This announcement comes in the same week as partner Joanna Farrands is accredited by the Law Society for advanced private children law and child abduction.