Diversity and inclusion adviser
I lead the D&I team on disability and work with our Lawyers with Disabilities Division, supporting disabled people within and wanting to join the profession. I am responsible for our relationship with City firms, ensuring that the D&I aims of the new Solicitors Qualifying Examination are fulfilled. I am also organising our second virtual D&I conference with Leeds Law Society in September. My experience of legal practice and insights at the coalface have proved invaluable when working out how best to further the D&I agenda both in firms and in-house teams.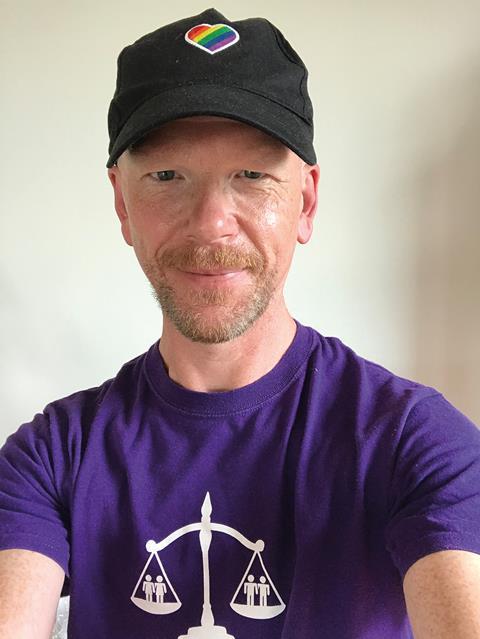 The interest in D&I has really grown. For firms some of this is due to it being the right thing to do and people appreciating the benefits of having a diverse workforce. But it is often in-house teams at clients who are driving it. They are frequently the most engaged and open to asking challenging questions and considering new ways of doing things. There is also increased interest from local law societies and their wide membership. On this year's conference, it is exciting to be working not only with Leeds, but also with Birmingham, Bristol, Cardiff, Liverpool and Manchester law societies.
I joined the Law Society in August 2017, having trained and worked at Stephenson Harwood and DWF for 24 years. As a partner, I had always enjoyed 'people issues', which increasingly included D&I. But client work, financial matters and business development always took precedence. What interested me most was D&I work and I decided I wanted to work in that area. But (like many) I thought I could only 'do' law.
The Law Society role meant I could improve D&I within my own profession. Not feeling able to be open about my sexuality for most of my legal career held me back – with colleagues and clients, because I was withholding part of the true me. I loftily decided I wanted to ensure at least one other gay solicitor didn't feel like that.
'It is often in-house teams at clients who are driving D&I. They are frequently the most engaged'
What first made me look at being a solicitor was when a teacher said I would struggle to get a job in law if I took A-level sociology! To prove them wrong I investigated and found it would be a good use of my analytical and written skills. I studied law and history at the University of Sussex, underestimating just how much reading and writing that would entail.
Originally I wanted to be my own boss and run a high street practice. But I got dazzled by City sponsorship and so accepted an offer from Stephenson Harwood. After a very enjoyable year at the College of Law in York, and an even more enjoyable year travelling, I started there in 1993. During my year off, I had openly lived as a gay man in Sydney, culminating in being a sequinned butterfly on a Mardi Gras float. When I started work I did not feel able to be quite so open. I worked in commercial real estate: on sales and purchases, development and landlord and tenant for a range of institutional clients. I also acted on PFI and major projects for energy, education and local authority clients.
When it comes to legal work, my career highlight was working on the Olympics. I led a team involved with construction of the electricity network on the site. While not as high-profile as some aspects, the Games would have been slightly less impressive without electricity, and it did mean being involved from when it was still an industrial wasteland. I am just not sure that my friends were as interested as I was when I kept pointing out temporary substations on the site.
On the personal side, a highlight is seeing my ex-trainees go on to become partners, senior in-house lawyers, and to have other successful careers. If nothing else, many will have learned from me how to best use sticky notes. On one occasion a client looked at my copy of a 300-page project agreement and asked what would happen if he moved all the sticky notes. I don't think he realised just how traumatic I found the mere suggestion.
The profession is definitely doing a lot to be diverse and inclusive. Stephenson Harwood's CEO is now an openly gay man, for example. It is especially good to see more focus on race/ethnicity and disability.
In all areas progress could be quicker. The profession could do more in evaluating the actual impact of what is being done, rather than just doing events and 'stuff'; properly understanding your own data and culture – what works in one place might not in another. Be prepared to innovate and take risks, rather than being prompted by events or waiting to see what others are doing. Put yourself in others' shoes and appreciate their lived experience. And stop concentrating on unconscious bias and move to conscious inclusion.
Chris Seel is diversity and inclusion adviser at the Law Society