I was fortunate to attend a Welsh grammar school which encouraged pupils to aspire to higher education and the professions. I found the constitutional aspects of studying history particularly interesting so this, coupled with the fact maths wasn't one of my stronger subjects and that I don't like the sight of blood, made the law an obvious choice.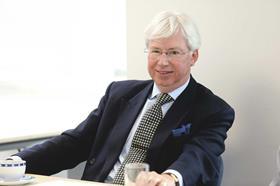 I was interested in the way the law holds the balance between the rights of the citizen and the state. Consequently, I chose to study administrative law, which was still a relatively new discipline in the common law tradition in the early 1970s. I spent the early part of my career as a solicitor with Mid Glamorgan County Council and for my first 18 months there I worked on child care cases.
When I moved on later to planning and then regeneration work, I think this early experience made me conscious that the purpose of planning is always to improve people's surroundings and to enjoy better lives as a result. I learnt the value of perseverance and patience to a successful outcome while working on projects like the Cardiff Bay Barrage and Wales Millennium Centre, which were controversial.
I find that explaining I am a public lawyer with particular interest in Welsh devolution usually succeeds in moving the conversation on to the weather. My least favourite legislation is currently the arrangements under the Government of Wales Act that reserve decisions on developing large-scale wind farms in Wales to the secretary of state for energy and climate change, currently an MP with a seat in the English home counties, rather than allowing the decisions to be taken by the devolved Welsh government as is the case in Scotland and Northern Ireland.
Based on the initial reports, the Legal Education and Training Review seems a missed opportunity. As far as solicitors are concerned, I see the current training contract as both a barrier to social mobility and an inhibition on lawyers gaining a breadth of legal experience before specialising.
I never dreamt when I qualified in 1978 that I would be advising clients on laws made in and for Wales. I think Wales is going to be an interesting place in which to practise public law in years to come, as devolved government continues to mature and we grapple with the question of whether Wales will emerge as a separate legal jurisdiction.
Huw Williams is head of public law, Geldards