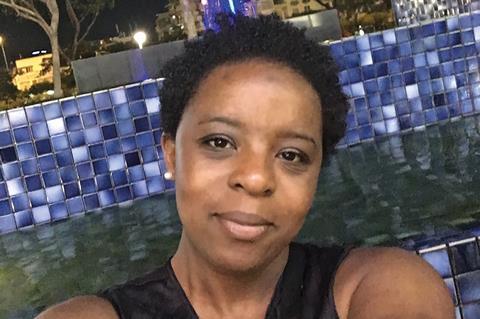 My late mother was my main motivation to become a lawyer. She always spoke about my grandfather, her dad, who'd come to the UK from Nigeria to study law and somehow convinced me that I'd be a good lawyer. However, I loved figures and was torn between becoming a lawyer or an accountant. I initially studied law and business at university, but after a year decided that I enjoyed law more. All the way through my studies my mum referred to me as a 'solicitor'. I suppose somehow she willed her legal ambitions for me into reality, which gave me a safety net at all times. Having someone dear believe in you and your capabilities conditions your mind to be robust, and to have self-belief and self-determination.
My first job after law school was as a researcher for a legal head-hunter. I researched the profiles of solicitors all over the country and noticed there was a bottleneck in the number of black law school graduates compared to the number of qualified solicitors I came across. There were even fewer black partners. At this time, I was applying for training contracts and the landscape was very disheartening – I lost a lot of confidence as a result of the many knock-backs I received, especially as my peers seemed to progress in a way that I did not. I did come into contact with one black female partner who advised me to become actively involved in the Black Solicitors Network (BSN), and so I did.
Working with the BSN, I directly engaged with black solicitors, paralegals and law graduates from similar backgrounds to me. They were living evidence that it was possible. I had my CV looked at and was mentored by the chair of the BSN at the time, Yvonne Brown. She was patient, kind and helped me restore my confidence in myself and the profession. I had a renewed sense of positivity as I approached applications and interviews again.
'I feel that it's important that my students see me as a living, breathing representative of the profession. I may not look or sound like what they think a solicitor is, but I am here'
It is often underestimated how important it is to one's confidence to have visual representations of oneself. At every point of accession in my career I noticed discrepancies when it came to diversity and representation. Overall, it served to make me even more determined to progress and make changes where possible for future generations who may have seen this as an obstacle.
I started lecturing on the Legal Practice Course in September 2020 after taking some time away from legal practice. I absolutely loved engaging with students, but I also missed engaging with clients. But an opportunity to work with the University of Law as a visiting lecturer arrived in January 2020, which gave me the opportunity to do both.
I love meeting and engaging with students as they enter the profession – they are funny, excitable, confident and keen. This gives me an opportunity to see what the future of the profession holds and to impart honest expectations, and the highs and lows and the exciting and promising parts of the profession. I feel they are owed this. It's a long and often expensive journey to qualification, so if I can give them any insight into what is to come, I will. No one did that for me when I was at law school. As much as I had some pleasant surprises, there were a few shocks!
I feel that it's important that my students see me as a living, breathing representative of the profession. I may not look or sound like what they think a solicitor is, but I am here.
Role models are extremely important and came in many guises to me. From my mother who, despite leaving school early, had a successful career and was extremely entrepreneurial. She returned to education later in life and graduated from university in her 50s. My partner Steven has always been a great source of encouragement and reliance. He has always shown me the importance of having passion for something and being brave and going for it, even if other people doubt you.
I've also learned much from the solicitors and supervisors I've worked with during my career, from all genders, ages, races, religions and nationalities. Particularly those who saw I was willing to learn. Each of them has taught me something, whether it be legal technicalities or a particular way of dealing with clients. I wouldn't be where I am, or the type of lawyer that I am, without their input.