I decided to study Law and Criminology at Nottingham Trent University because it interested me and I thought it would open up different career options. During my degree I worked for a charity which, alongside the Probation Service, supported young people completing their reparation hours. I spent many hours chatting while we litter-picked and painted fences. One thing that stood out during these conversations was the difference each person felt their legal team had made, and the impact this had on their outlook. It sounds cheesy, but I thought going into a legal role would mean I'd be able to really help people. I loved the idea of this.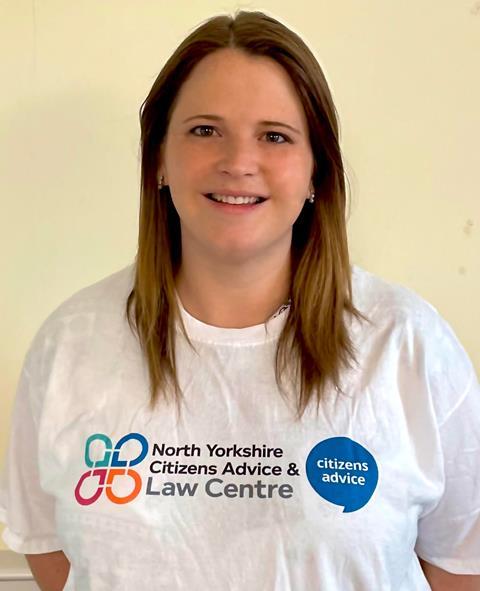 My first legal role was a student placement during my undergraduate degree. I worked for a high street firm specialising in legal aid matters. I must have made a good impression because after my Legal Practice Course they took me back as a paralegal then gave me a training contract. Although I did some work in the public law, community care and family teams, I worked mainly in criminal defence and absolutely loved my job. I learnt a lot working there and still use those lessons to this day. It gave me an insight into a number of different areas of law, how they interlinked and the impact poor advice could have on all aspects of someone's life.
Upon qualification I was offered an opportunity to work for a charity specialising in housing advice. It looked like a really interesting role which complemented my experience so I took the chance and really enjoyed it. I was very grateful for their support to train me up as a legal aid housing supervisor. While working for the charity, the charity became a member of the Law Centres Network and then Derby Law Centre. I then accepted an opportunity to gain experience in another law centre. It was interesting to see how they ensured a rounded provision of advice for clients and supported staff progression. I realised the Law Centres Network could offer fantastic opportunities for both the people working for them and the clients they support.
'Having a comfortable and stable home is an important foundation to many aspects of life, and I feel privileged to work in a position where I can help people have this'
I had always wanted to relocate to North Yorkshire. It's a beautiful part of the country and I enjoy the mix of having both picturesque countryside and the fun of the seaside close to home. An opportunity came up to join Citizens Advice Mid-North Yorkshire (as it then was) as its senior solicitor and open a law centre. This was a perfect opportunity for me to be involved with expanding the Law Centres Network into a geographical area which was otherwise a legal aid desert.
Developing the law centre was an exciting challenge and we were very well supported at all stages. We started with a small team of caseworkers with specialisms in different areas of law, and worked to create the policies and working practices needed to meet the necessary standards for Law Centres Network membership and legal aid work. I was extremely fortunate to have a strong team around me who were just as excited to make it work as I was.
It's fantastic being able to work for an organisation that is both a Citizens Advice and a law centre. The organisations complement each other and it puts us in a unique position to offer a range of advice and support on a wide variety of issues. We have recently secured legal aid funding in housing, including the new Housing Loss Prevention Advice Service, and immigration and asylum.
Having a comfortable and stable home is an important foundation to many aspects of life, and I feel privileged to work in a position where I can help people secure this. Having the roots of my career in criminal defence, I still have a passion for court work and very much enjoy this part of my role. Aside from supporting clients, I also enjoy the opportunity to train and support the next generation of legal aid lawyers. We have just appointed a trainee caseworker and our first trainee solicitor, so it's a really exciting time for the growth of legal talent in our community.
Another important and recent addition to my legal life is supporting the Yorkshire Law Society. It's really valuable to spend time with colleagues across all areas of law to learn from each other and appreciate what we all do. I'm excited to see what the future holds for North Yorkshire Citizens Advice & Law Centre and the provision of advice across York and North Yorkshire.