Associate solicitor, Liverpool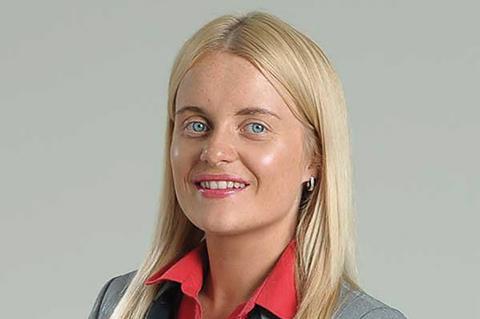 I started my legal career at a law firm in Chester, completing my Legal Practice Course at the College of Law with a distinction. I explored different areas of practice, such as probate, criminal and conveyancing, but occupational disease caught my eye. Occupational disease claims can be complex. I have dealt with a mixed bag of claims, from noise-induced hearing loss to hand-arm vibration syndrome and asbestos-related disease.
Choosing a practice area was not the only prominent challenge in my career. It took several years to be comfortable being openly out at work. I feared that identifying as LGBTQ+ in the legal world would result in difficult conversations with colleagues, damage my working relationships and even hinder career progression. For many years, I would either avoid talking about my personal life in the office, or carefully select pronouns to avoid giving away my partner's gender.
When I first opened up to a colleague, it felt like a massive weight had lifted. It was a difficult conversation and still is, if those I meet automatically assume that my other half is male. But being true to your identity with your colleagues allows you to be your best at work and create better working relationships. I am very fortunate to work in a team and firm that values diversity. I have developed deep and lasting relationships with people that go beyond the workplace, and their acceptance without exception is something I truly value.
I have also worked with colleagues to establish the BLM LGBTQ+ Allies Network to provide support and celebrate diversity and inclusiveness. The network was established to raise awareness, offer peer-to-peer support and ensure accountability. One of our first initiatives has been to work with allies throughout the firm – of which there are many – to demonstrate the voice they can lend in support of their LGBTQ+ colleagues.
'There is much more work that needs to be done by firms in supporting our transgender, gender-fluid, non-binary, and gender non-conforming employees'
For many years, BLM has been ahead of the curve when it comes to creating an environment where we embrace diversity. It was recently recognised as an Inclusive top 50 UK employer for two years running; it was the first law firm to officially sign up to The Inclusive Behaviours in Insurance Pledge; and it also has an active Equality, Diversity and Inclusion (EDI) Group. Many of the EDI group ambassadors are also members of external network groups, including the Liverpool Law Society EDI Committee, The Insurance Families Network and iCAN.
Last year, my colleagues and I launched BLM's LGBTQ+ Allies Network. LGBTQ+ employees, in every walk of life, need a critical voice that ensures LGBTQ+ inclusion is embedded in workplaces across the globe.
Outside work, I also sit on Liverpool Law Society's Equality, Diversity and Inclusion Committee and I am an area coordinator for Link Up North LGBT Insurance Network. Being able to connect with other companies and individuals with a similar ethos is uplifting.
Last year, I was due to mark a very significant event in my personal life: my wedding to my long-term partner. While we had to postpone, we were humbled by the love and support we received from friends, family and colleagues in getting to this point in our personal journey.
Law firms have come a long way in supporting their LGBTQ+ employees and it is great to see so many visible LGBTQ+ role models out in the industry. However, there is much more work that needs to be done by legal firms in supporting our transgender, gender-fluid, non-binary, and gender non-conforming employees. This is not an issue that is exclusive to the legal profession, but it is so important that we take steps as an industry to improve the experiences of all employees in the workplace.
The more we can do, as a sector and as individuals, to understand and appreciate the nuances in all of us, the more inclusive our working environments become. As an individual you are not just male or female, straight or LGBTQ+, black or white. When we truly respect ours and others' multi-faceted identities, we can pave the way to ensure everyone is comfortable to be their authentic self in the workplace.