Clients have allegedly been left to represent themselves in court after a company that aimed to cut the cost of legal services by facilitating direct access to barristers went bust.
Administrators were called in last week by Absolute Barrister, which was founded by husband and wife barrister team, Simon and Katy Gittins, in 2013. The pair set up the online company in a bid to revolutionise the solicitor-based model, which they said was outdated and too expensive.
Instead, they hoped to use technology to enable clients to instruct barristers directly and manage their cases online.
Its website offered members of the public fixed fee services to deal with 'unbundled', or discrete parts of their claim, promising to 'save half, sometimes two thirds and even more with longer engagements' on fees.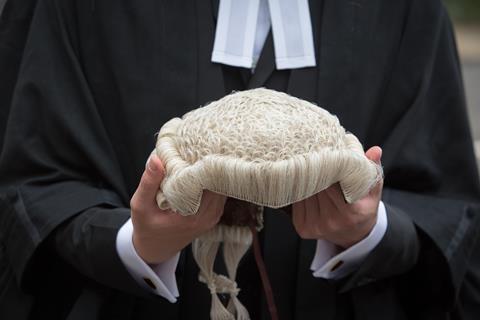 It said: 'We are passionate about providing cost effective expert advice, with great service,' in areas including divorce and family law, driving offences, property, personal injury, intellectual property and defamation.
The Gazette has learned that creditors of the company have received an email from administrators, AABRS, informing them that it had been 'instructed by the director of Absolute Barrister Limited to place the company into liquidation'.
The email promised to provide a 'report on the trading history and reasons for failure' of Absolute Barrister, as well as details of how to submit a claim for monies owed.
AABRS was unable to give any idea of the scale of the debt or the number of barristers and clients affected.
But the Gazette has spoken to one barrister who claimed that two of his clients had paid almost £20,000 between them to Absolute Barrister and who would now be left to represent themselves. Others are being represented by barristers providing services for free.
The barrister said: 'This company fundamentally let down clients, taking payments and then leaving them adrift in a highly stressful litigation process.' He said: 'The lack of communication before a single email informing clients that the company would no longer be offering assistance, in one case two days before a critical hearing in family proceedings, shows a complete lack of decency.'
One client, a father contesting an application for child maintenance, claimed that he had been forced to represent himself in court last week against his wife, who was represented by a solicitor and a barrister. The client, who asked to remain anonymous, said: 'The judge refused to postpone today's hearing on the grounds that I had no legal representation or that my legal representative had gone bankrupt two days before the hearing.'
The Gazette was unable to reach Absolute Barrister for comment. Absolute Barrister has a registered address in North London, but the correspondence address given on Companies House is in Guernsey. According to accounts filed in 2020 it had assets of £363,527, but owed £346,765.
A spokesman for the Bar Standards Board, which regulates barristers, but not the company, said that the regulator is 'aware of the concerns surrounding Absolute Barrister'. He encouraged barristers and clients affected by the company's collapse to get in touch.
This article is now closed for comment.