A grey BMW with a dog in the back seat was left parked across one side of the Strand on Thursday afternoon.
Supporters of Julian Assange blocked the road outside the Royal Courts of Justice in London today as the United States' appeal against a ruling that the WikiLeaks founder should not be extradited from the UK concludes.
A grey BMW with a dog in the back seat was left parked across one side of the road in the Strand on Thursday afternoon as around a dozen protesters sat nearby in the middle of the road.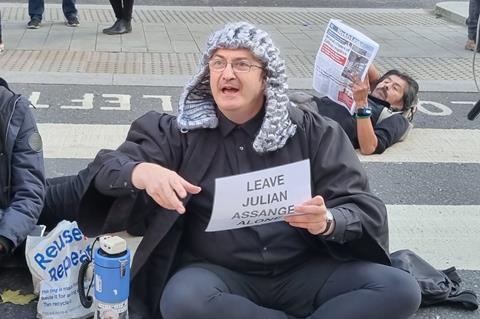 One officer told the Gazette that the driver of the car had been arrested on suspicion of obstruction of the highway, but that police could not break into the car while the dog was in the vehicle.
About 100 supporters gathered outside the RCJ on Wednesday and Thursday as the US attempts to extradite Assange over WikiLeaks' publication of secret US military documents a decade ago.
A district judge ruled in January that Assange, 50, should not be sent to the US, as 'the procedures described by the US will not prevent Assange from finding a way to commit suicide'.
But James Lewis QC, for the US, said the decision risked 'rewarding fugitives for their flight'. He argued that the judge 'erred in her overall assessment of the evidence going to the risk of suicide'.
Assange could serve any prison sentence he may receive in Australia, Lewis also told the court.
Edward Fitzgerald QC, representing Assange, said in written submissions that the US had 'sought to minimise the severity of Mr Assange's mental disorder and suicide risk'. He said it was 'perfectly reasonable to find it oppressive to extradite a mentally disordered person because his extradition is likely to result in his death'.
At the conclusion of the two-day hearing on Thursday afternoon, the Lord Chief Justice Lord Burnett and Lord Justice Holroyde said the court would reserve its judgment.