The Bar Council has demanded a £55m cash injection for 'Covid-stricken' courts after finding that 84% of barristers who attended court last month feared for their safety.
In a newly published submission to the Treasury ahead of the 2021 budget, the Bar Council said the £110m allocated to courts service in last year's spending review is not enough to protect court users.
'We suggest that the £110m provided to HMCTS for additional Covid-19-safe measures, including making courts safe, opening Nightingale courts, and recruiting additional staff, does not go far enough in supporting HMCTS staff to operate the courts safely without negatively impacting their safety and wellbeing or that of court users.'
It proposed that the government allocate an extra £55m for HMCTS staff recruitment, with a focus on the Crown court.
The Bar Council also said more physical space is needed to cater for increased throughput and sitting days. 'The government should urgently fund an additional 42 Nightingale courts, to bring the total number to 60 across England and Wales, to help respond to the rising backlog, increase efficiency and activity and prevent further delay,' it said.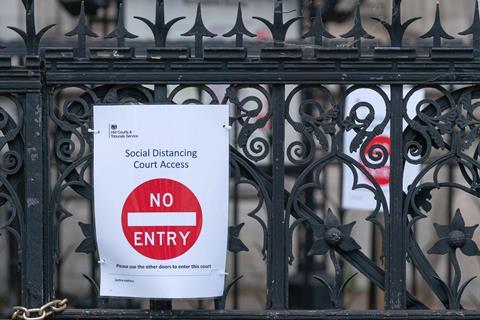 According to a Bar Council survey, 84% of barristers who attended court in December had concerns about practical arrangements from the perspective of their safety and wellbeing.
'Courts often feel unsafe, dirty and poorly ventilated; even when Covid-19 safe measures are in place, they are not consistently enforced,' the representative body said.
Resistance to the HMCTS 'business as usual' approach is growing among lawyers. Garden Court Chambers said urgent action is needed before matters become so serious that the courts will have to shut down altogether.
'Everyone who has been to the magistrates' court, the youth court or the Crown court in the last few months has at least one alarming story to tell about unsafe practices that are putting at risk the lives of defendants, witnesses, intermediaries, jurors, court staff, police officers, prison officers and lawyers. There are too many overcrowded courts and in-person hearings. There is inadequate mask-wearing, social distancing, Perspex screening and cleaning. The cells are particularly dangerous due to the small consultation rooms and the poor ventilation.'