The Inns of Court need to do more to promote social mobility, a barrister has said, after Lincoln's Inn quoted £3,000 for hosting an event about diversity in the legal profession.
Hashi Mohamed, a barrister at No5 Barristers' Chambers, approached Lincoln's Inn in November to host the launch of People Like Us, a book about his experience of arriving in Britain from Kenya as a child refugee and forging a career as a barrister. Lincoln's Inn quoted £1,500 for room hire and estimated £1,500 for drinks and canapes for 100 guests.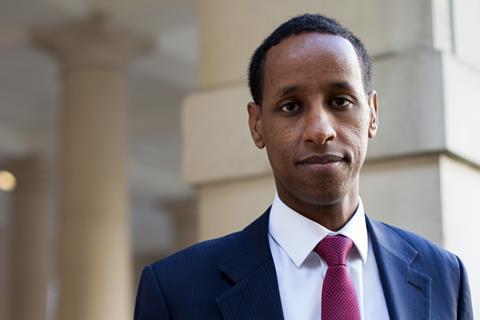 The Inn refused to lower the price when objections were raised, saying a discount had already been applied and citing the 'many members who make exceptional contributions to the bar and the inn who also had book launches here'. The event was eventually held at City firm Baker McKenzie free of charge.
Mohamed, who is a member of Lincoln's Inn, told the Gazette that many institutions are 'jumping on the bandwagon' of social mobility and the Black Lives Matter movement without making genuine change.
'For me, it is one thing saying: "we want more access, black lives matter, we want more people coming to the bar". But the proof is in the pudding, and when this sort of thing comes along they don't even do the most basic thing which is to offer their space in order to discuss why people are not coming,' he said.
Mohamed added that the book launch was intended to be an educational event for students, barristers and heads of recruitment, as opposed to a commercial enterprise. 'It was an opportunity to use me as a member to showcase the potential of so many young people.'
Asked about diversity in the solicitors' profession, Mohamed said City firms 'are capable of doing more and are doing more' than barristers' chambers because they have 'more money, more resources, and more numbers'.
'Some [City firms] recruit over 100 people a year; they have the capacity to take on risk, recruiting a lot of people without knowing if they are the finished product…Chambers take on about two people a year. You have to believe those people will be fruitful members of chambers who will earn well,' he said.
A spokesperson for Lincoln's Inn said: 'We get a lot of enquiries from members to hold book launches and other events at the Inn and we do charge for private bookings. We offered Mr Mohamed event space at the discounted rate of £1,500 rather than free of charge, and refreshments would have been at additional cost.'
'In hindsight, we might have discussed with him the extent to which we could have worked together on an event which shared his experience in coming to the bar as part of our diversity and inclusion programme. We don't always get it right and we're keen to learn and improve.'