Six couples have failed in their High Court bid to win legal recognition for humanist marriages.
Mrs Justice Eady DBE cited an ongoing Law Commission review of marriage law in ruling that the government was not acting unlawfully.
The judge stressed that 'the discrimination suffered by the claimants is real'. But she concluded that the secretary of state of justice had 'demonstrated a legitimate aim' in seeking to address differences in treatment as part of a wholesale reform of the law of marriage.
The couples were seeking a declaration that the government's refusal to legally recognise humanist marriages in England and Wales was a breach of their human rights which must be remedied. Such marriages have been legally recognised in Scotland since 2005 and in Northern Ireland since 2018.
In England and Wales over 1,000 couples a year already have a humanist wedding. But they must have a separate civil marriage – usually at a registrar's office – for their marriage to be legally recognised.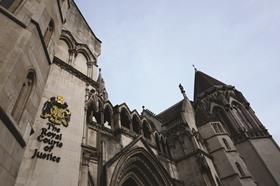 Pressure group Humanists UK described the ruling as disappointing. But the body pointed to Eady's assertion that acknowledging that the removal of discrimination may be complex cannot, of itself, make a failure to address that discrimination a legitimate aim. 'It cannot be open to the [secretary of state] to simply sit on his hands,' she said. The government said in court that a consultation would be published in early September by the Law Commission.
Humanists UK chief executive Andrew Copson said: 'We've waited nineteen years for this reform since it was first considered by the government in an ultimately abandoned review of marriage law, and seven years since Parliament gave the government the power to bring about legal recognition of humanist marriages without requiring a new Act.
'Thanks to this judgment, it is at least now not a matter of if humanist marriages will be legally recognised but when, and we await the government's proposals to remedy the discrimination identified by the court.'