16.30: Tuesday 1 October
Right. Chancery Lane calls - I'm on the train homeward. Thanks for reading and I'll sum up the best bits tomorrow.
14.22: Tuesday 1 October
A quick note on Boris's speech this morning, which was first of the week, by my reckoning, to sell out (not that you had to buy a seat, although most would).
Johnson has been a positive advocate of the City and critic of plans to restrict immigration to the UK – both important issues for the City legal sector.
To be frank, you would struggle to find much relevant to lawyers in his mixture of stand-up and speech this morning, with most of the emphasis on welfare and housing.
On Heathrow he warned a third runway would 'wreck the quality of life for millions of Londoners, constrain the ability of London to grow and allow the Dutch to eat our lunch by turning Schipol into the hub for London'. I must admit, I didn't quite understand that last point.
There was one overt reference to the legal sector, as he talked up London as a '24-hour city in which 100,000 people work in supplying us all with coffee, so that there are more baristas than barristers'.
Of course the masses loved it, but most would concede it wasn't a speech that will live long in the memory – it certainly doesn't feel like Boris has made the same impact on this conference as he did in the post-election glow of 2012.
13.50: Tuesday 1 October
Apologies for the delay, but the meeting went over time and, frankly, you try doing shorthand, tweeting and typing at the same time. Nick Robinson doesn't know how he's easy he's got it.
Anyway, there was plenty of discussion on the future of the profession and what place it will have for young people aspiring to be lawyers. Here's some choice quotes:
Christina Blacklaws, director of Co-op Legal Services (one of the first alternative business structures): 'Anyone who harks back to the type of training that put the consumer at risk is living in the stone age.
'ABS is more productive, better at resolving complaints and has a significantly increased market share. Five per cent of the turnover of the legal service market [is ABS] but they are only 0.02% of legal businesses.
'We're at the very early stages of seismic changes to the legal market and not just domestically. It is a real concern that young people are paying a lot of money aspiring to be solicitors or barristers and many will not have any chance of achieving that. You can have a fulfilling and more flexible career in legal services without nencessarily becoming a fully qualified solicitor or barrister - I don't like the term paralegal and qualified professional as we're all regulated whether we're qualified or not.'
Lucy Scott-Moncrieff, former Law Society president, added: 'In my experience our profession has the highest reputation in the world and that's something we don't want to lose. We don't want people in limbo of being well-educated but unqualified lawyers with a lot of debt and no prospect of anything but unqualified jobs.
'But we don't want to put people off and saying there is no point in you wanting to be a solicitor. It shouldn't really matter how people get to their outcomes whether it's a training contract or work-based learning. There is no discrepancy between being professional and proficient.'
12.35: Tuesday 1 October
Jonathan Djanogly just held up a Gazette front page to illustrate his point. It's an excellent start…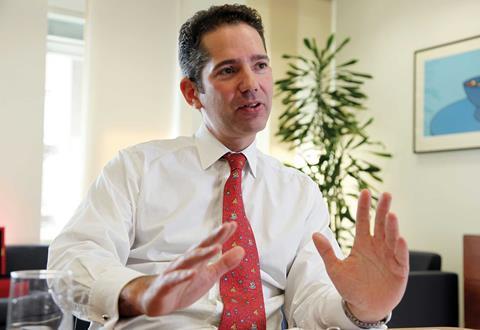 12.25: Tuesday 1 October
So I'm at potentially my final fringe event for an event dedicated to discussing the skills lawyers will need to survive into the future. Lucy Scott-Moncrieff, former Law Society president, and Christina Blacklaws, director of Co-op Legal Services, will speak. Blacklaws, who everyone seems to agree is lovely, is probably second behind Richard Susskind on the list of 'people who always seem to speak at legal events that I'm attending'.
A diligent Co-op lady has spent the last 15 minutes putting leaflets and Co-op keyrings on every seat. If anyone needs one, just let me know.
Our third speaker is Jonathan Djanogly, who disappeared off the radar after being moved along from the Ministry of Justice. He's seems happier than I ever saw him during his time at the MoJ.
12.05: Tuesday 1 October
Incidentally, we've had a request from the MoJ press office to clarify that it's the Conservative Party, not the government, that will bring out a draft bill for the ECHR next year. Article here .
Whether this indicates the Tories are especially proud of this policy, or the Liberal Democrats are keen to keep away from it, I'll leave you to decide.
11.20: Tuesday 1 October
As you'd expect, there has been lots of reaction to justice announcements in the national media. Here's a selection:
Julian Norman in the Guardian on Theresa May's proposal to deport foreign national offenders before their appeal:
'It is unlikely that May's proposal will be legal under current laws. Deportation, even pending appeal, must not place the UK in breach of its obligations under the European convention on human rights. Even in pursuit of would-be Ukip voters, the government has not yet had the stomach to withdraw from the most prominent human rights legislation we have, although May claims that this time they mean it.
'It is possible that this is just May drawing open the Overton Window, hoping that we will be relieved when something mildly less monstrous replaces this idea. If not, she is forgetting that when we reduce the individual complexities of human lives to a one-size-fits all exercise, we are taking the first step towards ignoring human rights altogether.'
The Telegraph editorial is dubious about Chris Grayling's ECHR plans:
'Repealing Labour's Human Rights Act will not be enough, since the rights that cause difficulty are separately enshrined in the European Convention. This is why the courts largely ignored new guidelines approved by the Commons in 2012 and continued to block the deportation of foreign criminals if they had family in this country.
'A proposed Immigration Bill will reduce the scope for human rights appeals, but in the end it might be necessary to leave the convention entirely. Mrs May said that was an option; but is it a serious one?'
Sadiq Khan, shadow justice secretary, writing in the Huffington Post :
'Chris Grayling's speech on Monday at Conservative Party conference reads as if the last 40 months didn't even happen.
'All his talk of tougher sentencing for knife crime and clamping down on use of cautions shamelessly ignores his out of touch government's record since the last election and their disgraceful lack of support for innocent victims of crime.'
10.40: Tuesday 1 October
Incidentally, I met Boris Johnson in my previous job and can honestly say he's the canniest politician you'll ever meet. Everything about him is stage-managed and planned to the nth degree.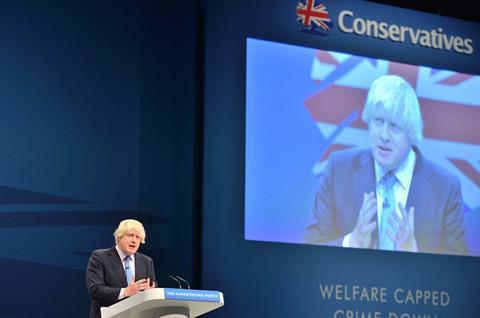 Take a speech I was saw him give at Canary Wharf a few years back. I had arrived late (not an uncommon occurrence, my friends will tell you) and was stuck by the side of the stage. I saw Boris in the wings with perfectly coiffured hair. An assistant held up a mirror and he ruffled it for a good minute until he'd perfected the hedge-backwards look we so know and love. Afterwards, to a man, he was complimented on how he didn't care about his appearance and was just focused on the policy in hand.
Underestimate him at your peril, I say.
10.30: Tuesday 1 October
Welcome to the third (and my final) day of the Conservative Party conference – or as we should put it more accurately, Boris day.
'When is Boris on' has been the most common question around the breakfast tables this morning as Tories suddenly resemble One Direction fans looking for a glimpse of their idols. The queues were snaking for miles this morning to get in, giving the protesters (shouting about everything from nuclear extinction to bees) a captive – if not willing – audience.
17.10: Monday 30th September
Right, if you don't mind I'm clocking off for the day. In fact even if you do mind I'm going anyway. I'm going for a long lie down in a very dark room.
Will be back tomorrow as Boris Johnson comes to town in his customary limelight-stealing-whilst-claiming-to-shun-the-limelight mode, and there is a a fringe event on the skills lawyers will need to survive in the future, featuring the Co-op's Christina Blacklaws, former Law Society president Lucy Scott-Moncrieff and, a blast from the past, former justice minister Jonathan Djanogly. Should be a hoot.

Thanks for all your comments, tweets and goodwill messages. Now for an early night before I do it all again…
16.50: Monday 30th September
There really needs to be more Conservatives on Twitter. I'm desperately trying to find some balance for these. If you do like what you're hearing from the conference, let me know at @johnhyde1982 . Anyway, here are a select few responses to Grayling's speech:

@Paul_Dillane Cameron, May and Grayling on human rights and immigration are politics at its worst; cynical, shallow, scaremongering. We deserve better.
@windlerob Chris Grayling foaming at the bit: 'Think what we could do if we could govern Britain alone' #cpc13
@nickdebois Crucial point being made by Chris Grayling on how much Human Rights Act usage bears no resemblance to fundamental HR first envisaged
@iOverlord 'It's what the public want' Grayling on Tory plans to scrap HRA. So I'll expect a plan for reintroduction of hanging in manifesto too then?
@DrHannah Grayling wants prisoners to "behave well". Treating them humanely might be a start
16.40: Monday 30th September
Shadow justice secretary Sadiq Khan was a keen observer of his opposite number's speech and was tweeting throughout:
'Grayling announces a diluted version of a policy on knife crime that Cameron promised at last election & never delivered! #victimslaw '
'Grayling's definition of rehabilitation revolution? G4S and Serco supervising offenders in our communities….. #failinggrayling'
'Bingo! Full house: reactionary right wing justice speech! All boxes ticked! Anti-Europe, lawyer bashing, prison chain gangs'

Just think, we've got another 18 months of this guys…
16.30: Monday 30th September
He confirmed:
* Draft legislation in 2014 for new human rights legislation
* One-year residency qualification required for immigrants to receive legal aid
* Scrapping cautions for all serious offences
* Looking again at assumption that criminals will automatically serve half their sentence
But it wasn't all bluster and playing to the crowd. There was a clear commitment to improved rehabilitation:
'I'm not making excuses for any of them. But we still need to make every effort whilst they are in prison, and when they leave, to turn them away from crime. If we don't work with them to turn their lives around, we all suffer as the long list of victims just continues to grow.'

If you want the whole thing, the link is here .
16.19: Monday 30th September
So here was Grayling's opening gambit:
'I'd like to ask you to cast your minds back. Back to those pleasant, sunny days in August … Some of you were most likely on holiday … Some of you might remember a story which appeared in the Daily Mail .'
16.10: Monday 30th September
The full text of Theresa May's speech from earlier is here .
And here's a sample: 'It's ridiculous that the British government should have to go to such lengths to get rid of dangerous foreigners. That's why the next Conservative manifesto will promise to scrap the Human Rights Act.
'It's why Chris Grayling is leading a review of our relationship with the European Court. And it's why the Conservative position is clear – if leaving the European Convention is what it takes to fix our human rights laws, that is what we should do.'
16.00: Monday 30th September
Chris Grayling has now been and gone. I'll be honest with you, it wasn't a speech packed with surprises. Introduced as the 'no-nonsense justice secretary', he mainly focused on how tough he was being on prisoners, how much he would reform the Human Rights Act if it wasn't for those pesky Lib Dem coalition partners, and about how the Conservatives will stop the process of handing out cautions for serious offences (there was no attempt to put a figure on how many times this actually happens).
I'll lay down the best quotes in a bit, but first a quick rant. There was nothing - literally nothing - in the speech that we hadn't read in the morning papers. Perhaps the reason there were so many empty seats - and I don't doubt this is the case for other parties - is that delegates don't need to hear a speech that they've long since digested from the drip-fed media.
15.05: Monday 30th September
Theresa May on main stage now. She has just said the next Conservative manifesto will include a pledge to scrap the Human Rights Act. Chris Grayling is after her. I know he's ready because I just saw him come out of the toilet.
15.00: Monday 30th September
And here's some of your best tweets in response to his words:
@thebarwithmb Beginning to think that the belorussian leadership believes in democracy more than our cabinet.
@Mark_Slater1 He may have a point there. Bar is too big currently
14.55: Monday 30th September
So here is attorney general Dominc Grieve on legal aid cuts:
The lord chancellor is between a rock and a hard place – he has to implement savings which are exceptionally challenging.
'I have never been of the view you can exempt legal aid from that category. I am the first to recognise the bar and Law Society have a very difficult task and we have to look very carefully at the way it gives rise to an increase in litigants in person. But it's not an area that can be left out the equation when it has grown so exponentially.'
On the bar, Grieve said the number of barristers was too big, but the problem came because they cannot simply be redeployed to another area of the business.
'For self-employed people it is death by a thousand cuts and it's an extremely painful process. The bar has to focus as a profession on the numbers required to fund the service. Even before these changes we had exceeded the amount and volume of work available. I am very confident about the long-term future of the bar but the transition is exceptionally difficult.'
14.30: Monday 30th September
While I write up the best bits from Dominic Grieve, I can update on probably the most interesting part of his submission - an admission that the Bar is 'too large'.
'For self-employed people it is death by a thousand cuts and it's an extremely painful process.'
13.25: Monday 30th September
Dominic Grieve invited to speak without being hindered by politics or media: 'That's an invitation to write my suicide note' is his response.
13.20: Monday 30 September
Robert Buckland MP on judicial review reform: 'There is raising of expectations that judges can ride to the rescue to protect values people hold dear. I am worried that I see those expectations transplanted into the JR process to make it part of the political debate.
'That is not good for democracy, the judiciary and our system of law. The lord chancellor has a duty to look at the reputation of the system and take into account the wider public interest.'
12.48: Monday 30th September
Interesting opening speech from JUSTICE's Angela Patrick. Probably not on Chris Grayling's Christmas card list.
On the ECHR, she says JUSTICE agrees with AG Grieve (who has previously advocated not withdrawing). 'Which of the rights do we actually want to drop? Do we really want to be in the company of Belarus?
On legal aid, Patrick says the debate has been caricatured by talk of 'fat cat lawyers': 'This is not about lawyers' fees and the profession - it is ultimately about people with problems and about clients and individuals who, without advice and legal aid, the real question is where do they go for a remedy?
'Language is increasingly politicised and the lord chancellor himself has said this is about not money but ideology.'
12.45: Monday 30th September
I'm at an event organised by JUSTICE on the rule of law with attorney general Dominic Grieve as guest speaker. My fellow Gazetteer (is that a word?) Joshua Rozenberg amongst the assembled hacks. However, we have a delay while we wait for the chancellor to finish his conference speech… Sandwiches currently being demolished during the delay.
11.35: Monday 30th September
One other justice note of interest this morning is home secretary Theresa May's promise to change immigration law to create a 'deport first, hear the appeal later' system.
She told the Daily Mail : 'The Abu Qatada case proved that we need a dramatic change in our human rights law. We're going to cut the number of appeal rights, extend cases where we deport first and hear the appeal later, and use primary legislation to make sure judges interpret the "right to a family life" properly.'
May is due to speak to conference this afternoon.
11.20: Monday 30th September
Conferences such as these are a joy for political geeks like me. Given the all-encompassing security, it's odd that secretaries of state just wander around without a care in the world. It's even stranger that none of the delegates take their chance to talk to them. Latest sighting was Eric Pickles, who breezed into the conference flanked by a clutch of photographers shouting his name and asking for him to pose, crowding round like he was an A-list star on the red carpet. A better visual depiction of the word incongruous you could not wish for.
George Osborne also passed me flanked by, on a quick count, 15 assistants. Irrespective of his policies, I like his new shorter hair cut. Makes him look younger, which is handy given that a huge tram-line of a wrinkle has appeared on his forehead since I last saw him.
10.40: Monday 30th September
Anyway, enough of that, onto last night's business. Mr Grayling was the guest of honour at last night's Law Society bash (held in the fantastic Manchester Art Gallery - well worth a visit if you're in these parts). And he used a word I almost guarantee you won't hear anywhere else this week: sorry. In fact he started his speech by saying: 'I think I should start by saying to criminal legal aid lawyers: I'm sorry, I never wanted to have to cut like this.'
It was the second time in a day I'd heard him express regret at the changes he says are economically necessary. That may have something to do with a fair number of Conservative lawyers up here haranguing him whenever they can for the cuts.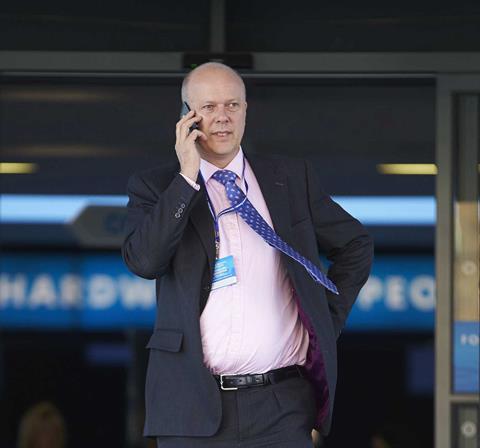 Grayling seemed to be offering a bargain of sorts. If you accept the cuts, he'll do everything he can to cut the cost of regulation and at least give law firms the freedom to change: 'If there are ways we can cut cost of regulation, tell me. I'm completely open to changes to help that.'
Grayling joked (well, half-joked, I do worry whether he's even capable of smiling) that his government is planning a big event in London in 2015 to celebrate the anniversary of the Magna Carta, despite the accusation from opponents he's doing all he can to destroy it (alright, it wasn't a zinger, but it's a start). He finished by telling lawyers: 'Thank you for contributing to our economy. We will do everything we can to strengthen it.'
10.30: Monday 30th September
So what's it like at a party conference? Blue, for a start. Everything is covered in blue, giving the whole place a weirdly oceanic feel. It's also ridiculously secure. Access to any road within about a kilometre of the main venue is pretty much off limits, much to the chagrin of Manchester's drivers I imagine. On entry, it's the full shoes-off/body-search treatment from G4S, responsible for security here, before you enter the venue.
What you notice more than anything is the number of people handing out flyers for fringe events (in this respect, and only this, the Tory conference is EXACTLY like the Edinburgh Fringe Festival). They shout out things you never thought you'd hear in your life: 'does anyone fancy lunch with William Hague' or 'free cake and a chat with Francis Maude' for example, with almost everyone choosing to ignore them.
10.15: Monday 30th September
Morning all. Monday morning and Manchester is buzzing (well, not exactly, I suspect it was a late night for many). We have day two of the Conservative Party Conference today, with George Osborne, Theresa May and, of course, Chris Grayling (it feels like I'm stalking him at the moment), on the bill. Isn't it exciting?
20.20: Sunday 29th September
Right, that's that for today. I'm off to a Law Society event where I'm hoping to catch a chat with at least one justice minister. Will update anything worth updating on Twitter (@johnhyde1982 ).
Thanks for your company - see you bright and early tomorrow!
20.20: Sunday 29th September
Plenty of Twitter chat following Grayling's appearance this evening (I honestly tried to find positive ones):
@LawCosting Not asking for a blank cheque. The sums can be decided on assessment. There are alternatives to abolition!
20.10: Sunday 29th September
One other quick note from the Policy Exchange event. Barrister Andrew Rosemarine asked about the Legal Ombudsman and was not a fan: 'There is no knowledge of basic law. You have conscientious and hard-working lawyers wasting time and subject to injustice. Your government has given them greater powers in spite of this.'
Grayling cited the review of regulation currently on the table and promised to look into his concerns. 'My view is there is too much regulation in the legal world. I want to reduce it - regulation should be there to stop bad guys doing bad things and should not place ludicrous bureaucracy in the way of efficient law firms.'
19.55: Sunday 29th September
Once the official Policy Exchange questioning was done (rather too much fracking talk for my money), it was onto questions from the audience. And wouldn't you know, legal aid was a high priority for many.
Grayling was asked why an innocent person should have to foot the bill for proving their innocence, to which he responded there is no 'blank cheque' for people to pay for the most expensive barristers. The justice secretary also made it clear he had not become Lord Chancellor to cut legal aid but was forced to cut the budget accordingly.
On legal aid for prisoners, Grayling said there would also be access to support for those mounting an appeal, but not for those with complaints about their treatment in jails.
'We have a complaints system and a prison ombudsman. At what point do you draw the line? Do you still pay for a lawyer on top of that in times of scarce resources? The truth is overwhelmingly our prison system stands comparison with any system in the world. We don't need to pump millions of pounds a year in funding a section of the legal industry that finds people who want to make complaints.'
Having fielded a question from Michael McDonald, from the Tooks Court chambers that formed a new low-cost chambers last week, Grayling sounded an optimistic word about his legal aid changes.
'I did note the chambers has reinvented itself with fees cut in half. I know it's difficult and I didn't come into this job to make wholesale changes to legal aid, but it does throw the gauntlet down to make changes and find ways of working more cost-effectively.'
19.25: Sunday 29th September
This morning David Cameron was hinting at a departure and now his justice secretary has added fuel to the speculation. Grayling revealed at this evening's Policy Exchange event his government will publish its strategy for the European Convention on Human Rights in the new year, with draft legislation to follow before next spring's European elections.
'We have a clear plan for change and we will consider withdrawing altogether. We have to do the job properly and the strategy and draft bill has to command legal respect. We have to limit the role of ECHR at least.
'We will take it to the ballot box at the European election. Last week [Labour's Sadiq Khan] made a very clear statement to support the Human Rights Act. This is a genuine dividing issue and the public is on our side.'
19.15: Sunday 29th September
Right, I'm back in front of the computer with a bulging notepad. Got some interesting lines from Grayling on ECHR and legal aid. Now give me a minute…
17.00: Sunday 29th September
And here's some Twitter reaction to the suggestion of leaving the ECHR:
@321Bin: We could have our own Bill of Rights independent of politicians without the need for ECHR
@GavinJudeLong: I assume UK-Belarus relations will improve greatly if UK leave #ECHR Seeing as it is only other European country outside of #ECHR
@AdamWagner1 : Tories would be pretty barmy to promise to pull out of European Convention but they will make a lot of noise about considering all options
16.45: Sunday 29th September
Grayling will also be keen to steal some of the limelight away from Labour's announcement at its conference last week, when shadow justice secretary Sadiq Khan announced it should be noted, it wanted to 'put victims first'. Would be a controversial party that didn't. It was fairly easy political capital for little actual endeavour – and indeed the government was quick to point out it has spent more money than any of its predecessors helping victims to recover. Yet another example of the two main parties essentially making the same point but trying to prove just how much more serious they are about.
In contrast to their policies, the contrast between the respective justice spokesman could not be greater. Grayling stands at an imposing 6ft 5in, compared with Khan who is around a foot shorter. It's a pleasant curiosity of British politics that Khan is, in theory, tasked with 'shadowing' his opposite number.
16.31: Sunday 29th September
It won't just be law and order on Grayling's plate this week. He has made no secret of his disdain for the European Convention on Human Rights and now it appears he may have started to bring the prime minister round to his way of thinking.
Speaking to the BBC, David Cameron said withdrawal is 'where we may end up' if Britain wants to ensure it can remove foreign criminals.
Cameron said: 'As prime minister, what I want to know is can I keep our country safe. For instance, are we able to chuck out of our country people who have no right to be here, who threaten our country. I saw we should be able to do that. Whatever that takes, we must deliver that outcome. And that is what I think we have the next 20 months to do, and put in our manifesto.'
Expect this issue to come up again and again this week.
16.20: Sunday 29th September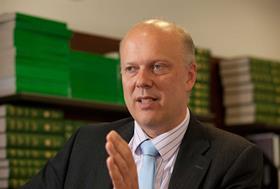 Of course, law and order is very much regarded as an open goal for the Tories and will always be high on the agenda for their party conference. To further mix the metaphors, Chris Grayling is very much the Alistair Cook of the party: solid, reliable and with an unquestionable faith in his ability. If this is to be the moment the Conservatives wrestle the their core vote away from UKIP, justice issues will be one of the main weapons in their armoury.
Grayling himself is in the curious position of being loved both within his party and by its leadership but resented by many of the people his decisions affect – ie lawyers. It's a little akin to Michael Gove's relationship with teachers. There is no question his speech this week will try to convince the electorate that law and order is safe in his hands – if you're expecting the odd liberal gesture thrown in, you'll have a long wait.
Take this morning's announcement that he will scrap simple cautions for serious crimes such as rape, manslaughter and robbery. Last year the conference's theme was around the 'bash a burglar' soundbite but, if the burglar did survive this bashing, there remained the feeling the criminal justice system does not punish harshly enough.
Grayling said nearly 500 offenders who admitted committing some of the most serious crimes escaped with 'just a slap on the wrist'.
'Quite simply this is unfair on victims,' he added, as he announced a further review of out-of-court disposals. Why this wasn't achieved in the Legal Aid, Sentencing and Punishment of Offenders Act, which came into force last year and was entirely the work of the Conservatives, is unclear.
15.40: Sunday 29th September
Hello and welcome to the first ever Law Society Gazette live blog from the Conservative Party Conference in Manchester. Please try to contain your excitement. Over the next two days or so I'll bring you every policy announcement, statement and opinion that matters to you, with a little flavour and some things you won't have seen on the television coverage thrown in as well.
Wherever there is legal discussion, I'll be there - from a fringe event on how lawyers can increase their skills to Chris Grayling's keynote justice speech on Monday afternoon. Speaking of the justice secretary, he's due to appear at a fringe event at 5.30pm, which is where I'm heading now. I'll update the best bits here.
I'll be objective, I'll try to be entertaining as well as informative and I absolutely won't mention the weather (which it turns out is pretty good in Manchester right now). If you have any comments you want to share on the blog, email me at john.hyde@lawsociety.org.uk or find me on Twitter @johnhyde1982 . I hope you enjoy it.