Research commissioned by the Legal Services Board has found that consumers see customer reviews as 'key' to choosing the right lawyer.
Interviews and discussions with 69 people, carried out by the group Community Research, found that respondents regarded it harder to choose a provider of legal services than in other sectors.
They were weighed down in their choice by what was at stake, the belief that costs would be high, limited knowledge and experience of what they were buying, and scant information available about quality. Participants in the research found it easy to come up with a long list of providers, but more difficult to gauge what level of service to expect. Few said they would choose on the basis of quality alone.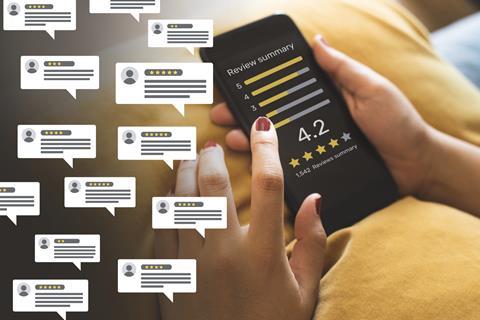 Those surveyed found that star ratings on external review websites provided an 'at a glance' overview of lawyers, being deemed as helpful by many but to be taken with a 'pinch of salt'.
More detailed customer reviews were seen very favourably, being crucial to understanding what a provider was like to work with, whether they offer good value for money, and whether they could achieve good outcomes.
Most consumers were wise to the potential pitfalls of relying on reviews – many could weed out the 'fake' reviews – and were less inclined to trust reviews embedded in law firm websites. The participants in the research had doubts about whether firms' self-published reviews would be genuine and represent the full picture.
Information about the firm was found to have value to those taking part – particularly with regards to the year the firm was established, which was said to indicate stability and competence. But complaints data was seen as 'problematic' by many respondents as it relied on context and could include spurious complaints. Online details about the solicitors who might be handing legal matters was seen as the least helpful quality indicator. Although personality and rapport with individuals was a critical factor in choosing a lawyer, those surveying much preferred to judge this through a conversation than from solicitor biographies on websites.
The LSB published details of the research at the same time as opening a new consultation on improving the transparency of quality in the legal services market. Responses are invited until 22 April.
This article is now closed for comment.