Attorney general Geoffrey Cox QC MP today rejected the accusation that the Crown Prosecution Service is failing – but said that the organisation cannot handle further spending cuts.
In evidence to the House of Commons justice select committee, Cox conceded the CPS had suffered a 30% funding reduction and 'significant' reduction in staff.
But in the midst of these challenges, he said conviction rates since 2010 have remained stable or even increased, and he pointed to staff engagement figures, which have risen by 12 percentage points over nine years.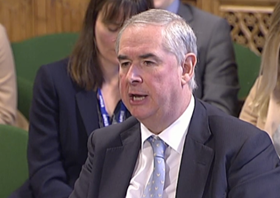 'It is a travesty in my view to describe the Crown Prosecution Service as a failing organisation, as some wholly exaggerated accounts often assume lazily,' Cox told MPs. 'On the contrary, day in and day out thousands of judgements are made on prosecution which are borne out in the courts.'
He said the government recognised the CPS had reached a tipping point over funding and he was in discussions with the Treasury about protecting resources. 'If you ask me: is it possible for them to sustain further cuts of the same kind? I'll be frank with you: I don't believe it is.
'We will not be able to see public expenditure reductions in connection with the CPS of the same type,' Cox added. 'But I do think it is important to stress there has been no suffering in the core functions of the CPS as a consequence of the reductions we have seen to date.'
Many of the committee members' questions focused on issues relating to disclosure, and in particular failings which have resulted in high-profile prosecutions abandoned because evidence had not been disclosed to the defence teams.
Cox denied that mistakes have been made because of a culture of hitting targets at the expense of proper decision making.
Instead he pointed to 'systematic and cultural' factors which require changing attitudes about challenging and scrutinising assumptions. He said the CPS had the right leadership in place to ensure these changes, but he would 'crack the whip' if further problems arose.
'I am determined that we don't see this blemish rise again to stain our criminal justice system and to produce a dent in the confidence in something which otherwise we should be immensely proud,' added Cox.
The attorney general said he had also spoken with the chancellor of the exchequer about prosecution counsel fee increases so payments do not 'lag behind'. He continued: 'That isn't, I hasten to add, carte blanche for promises of large injections, but it certainly expresses my belief there will have to be adjustments in the prosecution fees scheme.'