A recently sold purpose-built London courthouse is being hired out as a set to film legal scenes for a Netflix series at a time when the justice system faces a crisis of backlogged jury trials waiting to be heard.
Closed in December 2019, the former Blackfriars Crown Court site is awaiting redevelopment and has been hired out for filming and photography for the last nine months by its new owner. Despite trials being listed as far away as 2022 due to lack of space, television production company Top Boy used the purpose built, 28-year-old building to film courtroom scenes last week.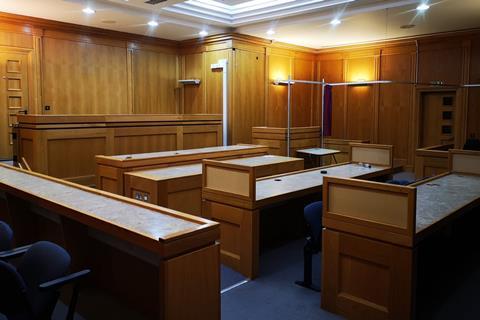 The courtrooms have been left virtually untouched since the departure of the court service.
Her Majesty's Court & Tribunal Service (HMCTS) said it enquired about temporarily using the site for its original purpose, but 'the venue was only available for a short period of time and the offer did not represent value for money'.
Developer Fabrix says construction work will begin in April, by which time Blackfriars' court rooms will have been available for 10 months. It plans to build a mixed-use 'sky-forest' on the site. It said it was contacted by HMCTS through an agent, 'but it was clear that their requirement was for a longer term than our construction timeline would allow'.
London's first Nightingale court, conference centre Prospero House, is a stone's throw from Blackfriars Crown Court. It cost £349,898 to set up, staff and security cost £115,653 in the first month, but the rental cost cannot be revealed for commercial reasons.
Despite its size London has seen only two Nightingale courthouses opened, three court rooms were opened at Prospero House in August and two trial courts have begun operating in the Royal Courts of Justice this week.
HMCTS declined to confirm staff rumours that Hendon Magistrates' Court's four small courtrooms will begin use for jury trials later this year.
In 2019 HMCTS described the Blackfriars sale as 'value for money' as it would reduce running costs (£1.48m a year) and increase efficiency, while the profits could be reinvested in the court reform programme.