A former partner whose firm was closed down by the SRA has been ordered to pay the £182,000 intervention costs.
His Honour Judge David Cooke, sitting as a judge of the High Court in Solicitors Regulation Authority v Robinson, ruled that John Robinson continued to control the London practice McLee Solicitors even while he was suspended for a year.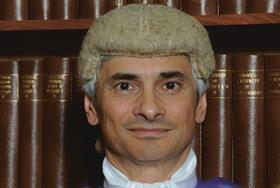 The firm, established by Robinson in 2007, was closed in August 2012 after it was found that for five months no qualified solicitor had been supervising the four or five unqualified staff working there. Robinson had been suspended in March 2011 after accepting a number of charges, including failure to supervise an employee who had misappropriated funds.
The SRA brought the claim on the basis that Robinson was a 'former partner' in the practice, citing solicitor rules that state the High Court can make an order against such a person under certain conditions (a court order is not necessary from 'the solicitor' whose practice is intervened in).
The case was believed to be the first of its kind: the rule update was inserted through the Legal Services Act 2007 and has been in force since 2009, but no applications for costs have previously come before the court.
Robinson submitted he was not involved in the management or operation of the practice at all after his suspension, and only visited the office to prepare his appeal against suspension. All client matters and management of the firm were carried on by others named as partners or principals.
He said he was never advised by the SRA the firm should close, and any issues with the practice were inadvertent on his part – indeed he blamed the SRA because it encouraged others still working at McLee to regularise the position and keep in practice.
The judge accepted there was no evidence that Robinson participated in any matter involving clients during his suspension, but there was 'considerable' evidence he was in effect 'standing behind' those who were ostensibly running the firm and making arrangements to keep the business going.
The judge said he was satisfied Robinson continued to control the operation of the practice at all times, consistent with his own position he was the sole owner and all others named as partner were no more than employees.
'Although he sought to avoid admitting it, the only person who could be their employer was himself,' added the judge.
The court accepted the SRA may have been 'over-indulgent' in allowing time for others at the firm to put the house in order, but what ultimately led to the intervention was that issues with the running of the firm were continuing in mid-2012 and there was no real prospect of Robinson putting an end to it. By that time there were no other people held out as partners, so the sole responsibility for the intervention lay with him. The judge ruled Robinson should pay 100% of the costs.