In a week of political drama on both sides of the Atlantic, the perceived threat from populist politics was a recurring theme at the International Bar Association's annual conference in Seoul. Lawyers were repeatedly urged to engage in the issue - both in their role as 'canaries in the mine' and as credible voices of opposition.
Addressing a session on 'Collapse of the middle - the different impacts of modern populism', the Argentinian economist and author Emilio Ocampo described populism as 'not an ideology but a way of doing politics'. This is a 'Manichean and antagonistic narrative', of finding an enemy to blame when voters encounter a 'frustration gap'. For left-wing populists, the enemy is an economic one; for right-wing populists, they are cultural, he said.
A separate conference session unveiled a disturbing global study indicating that democracy is in retreat. The latest 'state of the world' report from the V-Dem institute at the University of Gothenburg, Sweden, argues that the world is undergoing a third wave of 'autocratisation'; the first was in Europe in the 1920s and 1930s; the second globally at the height of the Cold War.
The evidence is from 27 million data points from 181 countries about elections, access to justice, freedom of expression and other indicators.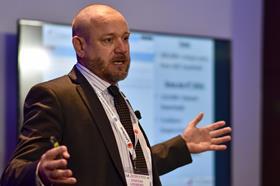 'One-third of the world's people live in countries undergoing autocratisation,' the institute's Staffan Lindberg (pictured) told a session on 'Are human rights in retreat?' Thanks to a retreat from democracy in some large and influential countries, including Russia and Turkey, 'we are living in a different world to that of 10 years ago', Lindberg said.
He also warned that the current wave of autocratisation differed from its predecessors in ways that could make it more pernicious. First, it is happening more slowly, which makes it more difficult to react to with urgency. Unlike the coups of previous waves, it is happening within the constitutional framework. '[Turkish president] Erdogan hasn't broken any law,' he said.
Finally, elections are still happening - in form, at least. 'Autocrats and would-be autocrats have learned their lesson,' Lindberg said. 'Make the elections look good, but between them undermine everything that makes elections meaningful.'
This includes attacks on freedom of expression and judicial independence - an early warning sign of democracy under threat. 'I think it's time for us to take this seriously,' Lindberg said. 'When you lawyers act and speak governments have to listen. It's time to start.'
As for events in the UK, the Law Society's immediate past-president Christina Blacklaws told the conference that the 'Enemies of the people' headline episode 'still sends shivers down our spine'. However this week's Supreme Court decision shows that 'if you have robust institutions and an independent judiciary, you can hold the government to account. But there is no room for complacency. It is up to us who hold all this dear to fight for that.'